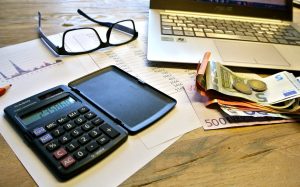 Debt is a very real problem which many of us have to deal with on a daily basis. Anyone who has been in the hands of debt will be able to attest to the problems it causes – between the stress, the restless nights and the health impact of both of these, debt is more than just a financial problem. If you're looking to stop yourself from falling down this very slippery slope, you need to know how people get into debt, and how you can learn from their mistakes. Here's how you can stop yourself from falling into the hands of debt.
Write up a budget
Budgeting is something which everyone should be doing in today's day and age. It's not just an easy way of keeping track of your spending, budgeting is a fantastic way of seeing where you can cut out the expenses you really don't need.Spend a month collecting information on all of your incomes and expenses, and use that information as a basis for your monthly budget. By the time payday rolls around you may be surprised at just how much you're spending on coffee, cigarettes and other luxury items.
Learn how to stick to your budget
Once you've written up your budget it's important that you stick to it. If you've decided you should be cutting down on X, Y or Z, a budget can be a massive help. If you ignore or forget about your budget however, the entire exercise is rendered pointless.There are several ways you can stick to your budget – if you're cutting down to 6 take-out coffees a month, make up a punch card you can put in your wallet or purse which allows you to keep track. Alternatively, print out a simplified version of your budget to put in front of your credit card so that you have to confront your budget with each purchase. The best tactic by far, however, is working out each purchase in terms of hours' pay. When you realise that every coffee is worth 45 minute's work, you become a lot less likely to splash out.
Pay off your debts as quickly as possible
The problem with debts is that they spiral – borrowing £1000 rarely means that you have £1000 to pay back at the end of the day. The longer you leave your debts, the more interest they rack up – conversely, the quicker you pay off your debts, the less interest you tend to pay off. If your credit card bills are growing because you're not paying them off quickly enough, find ways to cut down spending and make repayments a higher priority.
Know how to find extra income
Savings are better than spendings – it's as simple as that. An easy way of boosting your savings without any real spending is by marketing your skills online. This could be anything from selling things on eBay to selling your skills on an educational website. There are plenty of sites which offer online courses on everything from how to play guitar to the basics of Photoshop, all for a small fee. By contributing a course to one of these sites you can earn a passive income which can add up quite substantially over time.
Know where to turn when all else fails
If you find yourself falling into what appears to be insurmountable debt it's important that you know where to turn. Don't be afraid to ask for help when struggling – there are always options available to people who are properly informed, and there is plenty of free, independent financial advice which can help someone in your situation. People living in Scotland, for example, could turn to sites like trustdeedscotland.net who offer free, impartial advice when it comes to helping people consolidate their unsecured loans into a single, lower monthly repayment.