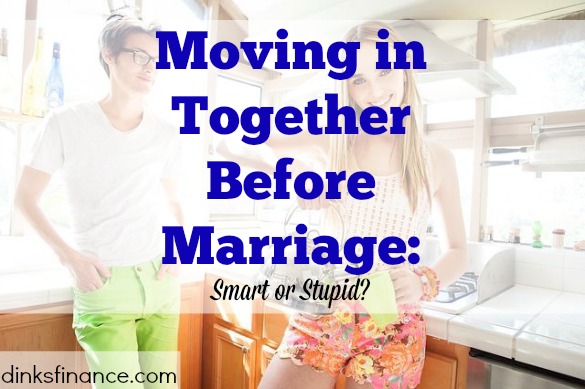 Good Morning DINKS.  Today we are discussing maybe one of the biggest financial decisions of our lives and in our relationships. Today we are discussing the question of whether to stay at home until we get married, or to hire movers and move in with our boyfriend, girlfriend, or fiancé before we actually tie the knot.
DINKS have dual incomes and no kids, but does that necessarily mean we have to be living under the same roof? If you are now married without kids, did you live with your spouse before you got married? If you are in a committed relationship but not yet married, do you live with your boyfriend or girlfriend under the same roof? Maybe you don't live together quite yet but you already share expenses and save money together.
Moving in Together Before Getting Married
The reason I bring this up is because this past week I became aware of three very different living situations between three of my colleagues.  You may remember my colleague Tamara who has a new boyfriend that treats her like a royal princess and pays for everything in their couple.  Tamara lets her boyfriend spend his money on her and she never offers to split the bill.  Now they are moving in together.
Tamara and her boyfriend aren't planning on getting married (as far as I know) but they are planning to move in together next month.  I am trying to see this situation from the boyfriend's point of view; I wonder why he would want to move in with a woman who doesn't contribute towards the household expenses.  This living situation bothers me a little bit because I know that marriage is till death do us part and for richer or poorer, but should a man spend his own money to take care of and provide for a woman who is only his girlfriend and not his wife?
Living Together with Your Parents and Your Fiancé
Joanna is another co-worker who works with me at the bank.  She is a Senior Teller and makes approximately $30,000 per year.  Her husband also works for our financial institution, but at a different bank branch.  He is a Personal Banker and makes approximately $45,000 per year.  This couple has been dating for less than two years and they are planning to get married this October.  First of all I would like to know how long you dated your spouse before you got married because 2 years doesn't seem like a long time to me.  However, that is beside the point.
In an effort to save money for their wedding and the down payment on their home Joanna and her fiancé have been living with Joanna's parents for the last year.  He lives in the basement and she lives in her childhood room, and neither one of them pay rent.  The reason the couple is so desperately trying to save money is because Joanna's husband has approximately $15,000 in debt and she wants to be married debt free.  Would you pay off the debts of someone who isn't your spouse? I personally think that a couple should live together before getting married because moving in with someone is a major living adjustment.
Staying at Home Until We Get Married
Paula is another Financial Planner who works with us in our bank branch.  Her boyfriend is also a Financial Planner, but with another financial Institution.  The both make close to (if not more) than $85,000 per year.  According to Paula my boyfriend Nick and I are living in sin.  She does not believe in living together before marriage.  Paula can definitely afford to move out, but she still lives at home with her parents…and she is in her 30s.
Paula doesn't feel the need to move out yet because she isn't married.  She doesn't want to move out of her parent's house because she thinks that she will be lonely.  Paula saves bundles of cash by living at home with her parents and she gets to travel the world because other than her car and her cell phone Paula has no monthly expenses.  At what age did you move out of your parent's house?
——
Photo by Mercedis
Like DINKS? Subscribe!
Subscribe to get the latest DINKS Finance content by email.