Good Morning DINKS. Thanks to our great friends at Bankrate we have some great information for you today. In celebration of 2012 being an election year Bankrate has compiled a list of some politicians and their net worth. Which politician do you think currently has the highest net worth?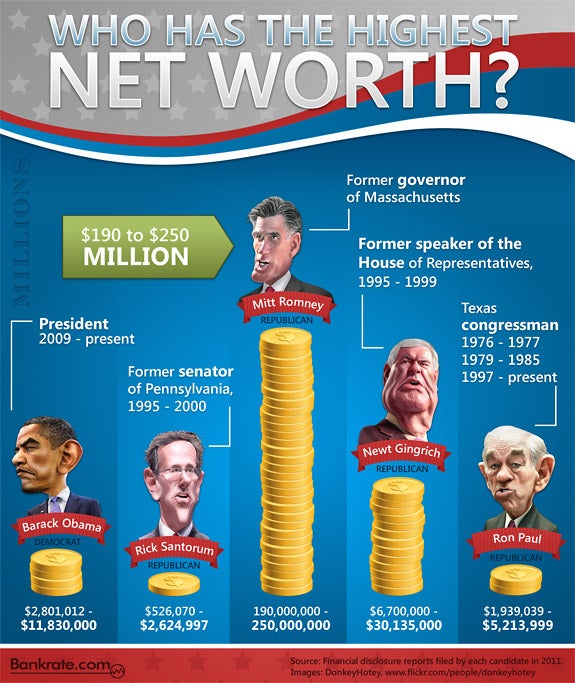 We have previously discussed both the wealth of John McCain as well as the savings habits of President Barrack Obama on DINKS Finance.  Although I don't personally feel that personal finances should be compared amongst friends, family, or co-workers; I think that it will be interesting to see exactly how our politicians measure up against each other.  Do You Think the Politician with the highest Net Worth is a Democrat or a Republican?
It is reported that the annual salary of the President of the United States is approximately $400,000 per year, but politicians make money in several other ways. Politicians earn a supplementary income aside from their salaries by writing and  selling books, guest speaking at public and private events, as well as doing interviews for magazines, newspapers, and radio shows.
Which Politician Do You Think Has The Highest Net Worth?
5. Republican Rick Santorum is the former Senator of Pennsylvania.  He was the Senator of Pennsylvania from 1995 to 2000.  Rick Santorum's estimated current net worth is between $526,070 and $2,624997.Rick Santorum receives his income from various sources such as being a contributor to News Corp and a columnist at the Philadelphia Inquirer.  He also receives compensation from having a talk show on Salem Radio.  He receives an income from Universal Health Service stock options.
4. Republican and current Texas Congressman Ron Paul has a current net worth of approximately $1,939,093 to $5,213,999.  Ron Paul earns his secondary income from a very generous pension plan as well as an annual salary from Carona Ltd.
3. Democrat and current President of the United States Barack Obama's current net worth is estimated at approximately $2,801,082 to $11,830,000.  President Obama currently earns a secondary income from the advances, sales, and royalties from his 3 books "Dreams from my Father", "The Audacity of Hope" and "OF Thee I Sing: A Letter to my Daughters".
2. Republican and former Speaker of the House of Representatives Newt Gingrich has a current net worth of approximately $6,700,000 to $30,135,000.  Newt Gingrich receives dividends from Gingrich Productions as well as The Lubbers Talent Agency which is owned by his daughter.
1. Republican and former Governor of Massachusetts Mitt Romney has an approximate net worth of $190,000,000 to $250,000,000.  Mitt Romney earns capital gains, dividend, and interest income from the corporation Bain Capital.  He earns over $350,000 per year in guest speaker fees, he also earns an annual salary from being on the Board of Directors for Marriott.  He receives royalties from the sales of his book "No Apology: The Case for American Greatness".
Did you guess right? Did you think that Mr. Mitt Romney was the politician with the highest net worth? Are you surprised the the politician with the highest net worth is a republican?  Being a politician is supposed to be a job in itself, but it seems like it is just a platform for men and women to push their own personal agendas.  Being a politician and a public figure just ensures that the revenue income stream continues flowing when the politicians term ends.  Is that smart business or unethical business practices?
(Infographic by Bankrate)
Like DINKS? Subscribe!
Subscribe to get the latest DINKS Finance content by email.