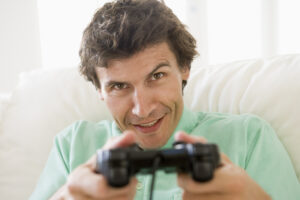 Despite the fact that a hacking attempt or attack occurs every 39 seconds, that hasn't stopped most of us from depending on technology. From social media doom scrolling to online shopping, it's clear that the digital revolution is in full swing — and that the pandemic has only made our dependency more pronounced.
Of course, technology can connect us to others and provide a whole lot of convenience. But left unchecked, it can cause harm. While there are 104 casinos in the Las Vegas valley, you don't have to travel to Sin City to gamble or to waste money on a game. Thanks to gaming systems and even smartphone apps, you don't need to leave the couch in order to be immersed in another world — and be convinced to part with your hard-earned cash.
For many people, the ongoing COVID-19 pandemic has made the desire to game even more pronounced. Experts predicted back in April 2020 that video game addiction could quickly spiral out of control during lockdown conditions. And even before this health crisis, anywhere between 0.8% and 25% of all gamers reportedly showed addictive tendencies in regard to gameplay. Whether you were fixated on the idea of getting a PS5 for Christmas or you spent quarantine glued to your Nintendo Switch playing Animal Crossing, it's clear that gaming can provide a welcome escape from our messed-up reality. But what happens when a gaming addiction spirals out of control and causes you to spend money you don't have?
Some gamers will view the act of purchasing new games as an investment. But you can't really compare collecting games to, say, investing in index futures (which can be used as strong leading indicators of market sentiment). And once you're enveloped in the game, you might not realize that you're spending more money than you can really afford. Many of these games were literally designed to make you forget about the real-life consequences of the purchases you make. But if you're struggling to keep your finances in check and you know that your gaming may be at the center of it all, here are just a few tips to stop spending money by curbing your game obsession.
Spoil the Game
One way to keep yourself from wasting both time and money on certain games is to actually spoil them for yourself. You might want to purposely read spoilers or watch walk-throughs in order to take some of your enjoyment out of it. If you know how to beat a certain level without making additional purchases or you realize that the payoff of finishing the game isn't worth the money, you'll probably be less interested in it and can make healthier choices — even if you decide to still play it.
Read the Fine Print
For smartphone app gaming, it's important to read the fine print before downloading. This is especially true if a game offers in-app purchases. Some games are free to play up to a certain point, while others will try to hook you with psychological tactics that make it more likely for you to make additional purchases. Going in, make sure you're familiar with these tactics and take the additional step of unlinking your payment info if you're worried about being tempted.
Switch Up Your Routine
If you're not ready to delete an app or sell a game from your collection, you may be able to stop yourself from spending money on this habit by making a change in your lifestyle. If you ordinarily play games every night after work, make other plans in your schedule that don't involve gaming. Set up a video call with a friend or try out an at-home workout to pass the time and to give yourself a boost of feel-good hormones. If you limit your gaming activities while finding other enjoyable options, you'll probably find you're less compelled to spend money on virtual adventures.
Talk to a Therapist
If none of these tips have helped much and you're still not able to control your game spending, it may be time to talk to a professional with experience in treating video game addiction. While it may not sound like a real health disorder, it's every bit as real as substance abuse disorder. Even if an addictive drug isn't involved, the act of playing a game — and the chemical reaction that game has on your brain — can give you cravings and make you feel as if you have to engage in these behaviors. By taking to a therapist or seeking out a treatment program, you may feel empowered to make positive changes that can help you find freedom (and keep money in your bank account).
Since the pandemic has ruined a lot of other entertainment opportunities, it's no wonder that so many people have turned to gaming. However, gameplay can quickly get out of control and wreak havoc on your finances. With these tips in mind, you can get a handle on your coping mechanisms and make positive changes that will help you balance your budget more effectively.