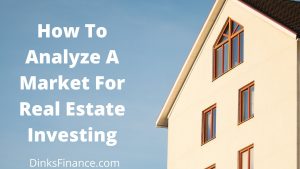 With interest rates incredibly low and the uncertainty around the stock market, many investors are beginning to park their money in more physical forms of assets like real estate. Home sales around nation are up and the demand for properties is through the roof! Do you want to get into real estate but you aren't sure if your market is the best place to invest? No worries, in this article we will be looking at how to analyze a market for real estate investing.
How To Analyze A Market For Real Estate Investing
We are going to take a high-level look at some things you need to research and understand before investing in any real estate market. These are vital and proper due diligence is necessary if you want great returns for your investments.
Analyze Population Growth

Google population growth for your area and you will get so many statistics and really good information on where the population has been historically and where the city is projecting it to be. You always want to make sure you are investing where people are living and moving towards, not moving away from.

Look for Job Growth

Make sure there are plenty of places to work! Look at the cities unemployment rate, the lower the better. Also, look for any major companies moving to that area or major companies doing layoffs in that area.

Always look at Commercial Tenants

Great investors say that commercial property patterns are an early sign of how the residential market will be in a given area. If there are a lot of boarded-up old stores, restaurants, or malls… that may not be a good place to park your pennies.

Calculate DOM

Days on Market (DOM) indicates how quickly homes are being bought in your area. If homes are selling quickly, then it means there is a lot of demand for houses in that area. If they are not selling quickly, it means there isn't a demand and there could even be a surplus of supply (houses) on the market – this is a sign to not enter that market.

Check the New Residential Construction Index

The new residential construction index is maintained by the U.S. Census Bureau. It shows how many permits for buildings are given for new homes and how many homes are started/completed each month. These show growth and demand for that area. Watch these all the way through. Make sure they are selling quickly and not staying on the market long.

Watch How Quickly Units Are Rented

If you are looking to buy an investment property and rent it out, take a peak on Zillow or another site and see how long units have been on the market for. You could even put up a trial ad on Craigslist and see how many bites you get. Additionally, check out Zillow's rent index which shows the demand, rent, and price fluctuations within a given market.

This is just a good way to identify keep trends within that market. These trends could make you or break you as an investor in that area so keep this tool in your back pocket always.
Also, watch for announcements from big companies either moving to the area or ones that employ a lot in the area. You want to make sure jobs are being brought to the area not taken.
Final Thoughts
Hopefully, the tips above help you formulate a plan to start analyzing your market to see if it is a viable place to invest in real estate. The sooner you start, the sooner you will start making money and be closer to a wealth of passive income. I hope you have a better idea of how to analyze a market for real estate investing!
Do you invest in real estate? If so, where do you invest?
For more articles, check out these articles!