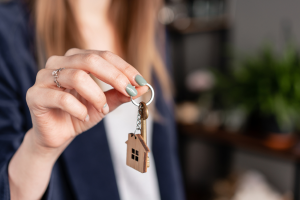 Homes are often the single largest investment we will ever make in this life. When you purchase your home, you do all sorts of research on the neighborhood, proximity to work or the outdoors, commute time to your favorite local café, highly-rated schools, and more.
And once you've done your research, you become confident in your purchase decision. But there's more that comes with owning a home than just buying it and moving in. Smart homeowners know they need to protect their investment because no matter how safe your area may seem, there is always the possibility of criminal activity. The last thing you want is to be left unprepared.
Here are a few worthwhile security investments to get for your new home:
SMALL UPGRADES CAN MEAN BIG RETURNS ON SAFETY
Have you ever looked at a house with overgrown bushes and shrubbery that looks straight from a scary movie, only to think, "Wow, does anyone even live there?"
Well, criminals think the same thing too! Only they may want to check inside to see if the owners left anything behind.
But what if said abandoned abode wasn't actually empty – it's your new home!
Be proactive when you first move in by making sure your landscaping is near and tidy. Trim bushes and trees, mow the grass and remove any overgrown shrubbery that could be potential hiding spots for criminals trying to stake out your home.
Invest in other small-scale items such as changing your locks and adding window coverings. Curtains or blinds can keep curious criminals from spotting your new TV or other expensive items.
MAKE NICE WITH YOUR NEIGHBORS
Even if you're not the most social person, forming a pleasant relationship with your neighbors can prove invaluable when it comes to home security. Those living nearby can spot something out of the ordinary and give you a heads up if need be. Plus, it's always a good idea to have a friendly face watching your home when you're traveling or if you need to be away from home for longer periods.
DO SECURITY SYSTEMS WORK?
For some homeowners, security systems are a purchase they hem-and-haw over. Do you really want to spend the extra cash monthly? The short answer is yes. But first, to set budget-conscious minds at ease, know that security systems come in a variety of price ranges and with functionality add-ons that span the spectrum (think motion sensors, cameras, smartphone apps). Even the simplest loud alarm has been proven to ward off would-be robbers.
Worried about offsetting the cost of a new security system? Check with your homeowner's insurance policy as most will give you a monthly discount off your premium for having a system installed.  Just be sure to confirm with your provider that yours is equipped with the right features to save you the most money.
AFTER A BREAK-IN THE REAL MESS BEGINS
Did you know that the average break-in lasts only between eight and 12 minutes? Yet, $3.4 billion were reported in losses in 2017 due to burglaries. A large portion of that was stolen property, but another portion many homeowners think less about is identity theft.
Eight minutes for an experienced criminal is more than enough time to grab your laptop, credit cards, passports, and more leaving your personal data at risk.
The best investment to protect the items within your home is to check out and subscribe to an identity theft monitoring service such as LifeLock. That way if you do become the victim of identity theft for any reason, you'll be provided with an identity restoration specialist to personally manage your case.
Make these home security improvements to keep your loved ones. By doing what you can to protect your personal items secure, you can set your mind at ease and stress less about break-ins.