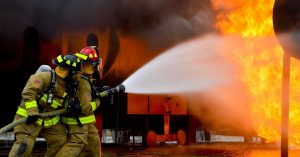 The Woolsey fire in Los Angeles, California prompted several citizens to brush up on their fire insurance knowledge to either claim their own insurance or to simply prepare should such a similar incident occur again. This was evidenced by trending internet search keywords such as "Woolsey Fire Insurance Claim" that have been making rounds ever since the aftermath of the tragedy. This article discusses some important key points to keep in mind when claiming or applying for fire insurance.
The truth is no one is really ever prepared to deal with house fires. It is a harrowing experience many of us are unlucky enough to experience. What comes next after the tragic event is not easy either. It is a challenge to figure out exactly what to do next amid all the confusion, distractions and sadness. Then you realize that you still have to deal with your insurance company.
Insurance claims processes is never an easy process to navigate but one we should be prepared to take should a tragedy come.
When faced with questions from the recent Woolsey Fire, insurance claims was the main topic in the discussions. This is a compiled list of questions and answers that could help claimants in the entirety of the process.
Understand the fire insurance coverage
This is the first step in claiming any type of insurance. The worst possible thing that you can be faced with is knowing that you are not fully covered by your insurance right after tragedy struck. Always ask the question every year if you are fully covered or at least have adequate coverage in your homeowner policy reviews. Your agent should be able to answer questions such as the basic difference between cash value coverage for your properties and house and replacement coverage. It is also important to keep your agent up to date on any and all changes you have done to your home that could significantly increase its value. This could increase your monthly insurance premium but will extend your coverage to the extent of your new house valuation.
Keep your documentation safe from any possible tragedy
Your disaster kit should include three things, food and water, communication devices and insurance documentations. Nowadays, where most transactions are paperless as offered by services from companies. Should a claim be challenged, written contracts and agreements will still hold value in the court of law. This makes it easier for you to claim our insurance and make the insurance company think twice in trying to rip you off.
Should a fire occur, make sure that your family and friends are safe first and foremost. But then, you should have a bag filled will all your important documents that include your insurance contracts and agreements that can easily be dragged in tow. Another option is to store these documents in a separate place altogether such as storage spaces or locked in fire-proof, water-proof vaults. Also keep scanned copies of the documents and pass certified copies of it on the cloud. Aside from written documents, you should also keep photographs and other evidences that prove the worth of your properties.
Let your insurance company know immediately.
Even during the tragedy, after securing the safety of your friends and family, make sure to notify your insurance firm immediately. The fire insurance claim process should start as soon as soon as possible despite not having enough information. Your agent should be ready to proceed with processing your claim as soon as the fire has started. You will be given a priority number which could speed up the insurance claim further down the line.
By law, your insurance company is required to respond immediately to any insurance claim. When you feel like it is taking too long and is not being worked on, constantly contact them to ask for the status of your claim. You should also document all correspondence between you and the insurer. Should you feel that you are being treated unfairly, quickly contact the insurance department of your state. The longer it drags on, the more complicated it could get.
Work diligently to try to save as much as you can from your home.
This is probably not something that you expect to hear from tips to optimize your insurance claim. However, as stipulated in most contracts, homeowners are required to take all reasonable steps to ensure that the value of their property is not completely wiped out.
You should, for instance, make sure that the fire does not spread any further by removing flammable materials out of the fire's way. After the incident, you should close all entry points from your property to make sure that no one tries to trespass and loot the place.
Ask for immediate assistance
It is a good idea to ask for a cut of the entire insurance claim even before the conclusion of the insurance companies investigation of the event. This is necessary for the homeowner to temporarily relocate to a safer house as the insurance process is still in progress. As an added precaution, you should keep all the receipts of the transactions from your advance to assure the insurance company that you are only using the money for absolute necessity. These companies may not think too kindly of extravagant purchases before the insurance claim has been settled.
Document everything
Every detail of an insurance claim from the start of the fire to the giving of your insurance check is critical. Every text, email, and written notes should be kept with multiple copies. Make sure you organize them as well by time and type of communication. Preferably, for the written documents, use accordion folders which are both easy to transport and to organize.
The woolsey fire, insurance claimants have experienced first hand the difficulty in getting their own claims. The size of the tragedy meant a sizable claimable insurance from a lot of parties involved. This cause insurance companies to go with caution so as not to endanger their own interests.
Like DINKS? Subscribe!
Subscribe to get the latest DINKS Finance content by email.