Apple users take great pride in their iPhones and iPads – yet they might not be that accustomed to thinking about privacy or security on their devices. After a recent surge in cybercrime related to malware, Apple plans to introduce new feature that alerts users to safe mobile transactions and confirms their authenticity.
Apple Not Invulnerable to Malware
Everyone knows that while the Android operating system has conquered the mobile device landscape, Apple users are a solid stronghold within the electronics industry that does not seem at all willing to abandon their precious Apple products and give in to the lure of the more conventional Android approach. For years, Apple products have risen as a manifesto of sorts and as a status symbol, yet more and more consumers turn to them each day – in fact, the company's hardware nowadays dominates the mobile device market, claiming almost 35% of active monthly users, leaving Samsung second at a little over 23%.
You will find more statistics at Statista
Due to their famously niche appeal and their closed-system approach with regard to their operating system, Apple users have long remained adamant that their devices cannot catch a virus like Windows and Android products. Yet, that is not true. In fact, in 2014, 178 vulnerabilities were reported on Apple mobile devices as opposed to just 12 on Android systems, while the same figures in 2015 rose to 463 and 89 respectively. But in 2016, Android surpassed iOS with a total of 316 flaws reported, against 290 on iPhones and iPads. While the landscape seems better for Apple, this development certainly does not mean that Apple users are safe from hackers who could exploit these vulnerabilities to launch cyber attacks.
New Privacy Handshake Icon Will Help Prevent Phishing Attacks
Apple itself seems conscious of this and has decided to introduce a new feature that will help users be better protected against phishing attacks. Phishing is a type of social engineering attack that is frequently employed by cybercriminals in order to access and steal user data, including sensitive and financially significant information like login credentials and credit card numbers. In this type of attack, a hacker, masquerading as a trusted party, tricks the recipient into opening an email, instant message, or text message that contains a malicious link. Clicking on it can lead to the installation of malware, freezing the device's system as the first stage of a ransomware attack, or inadvertently allowing the hacker to gain unauthorised access to highly sensitive personal data.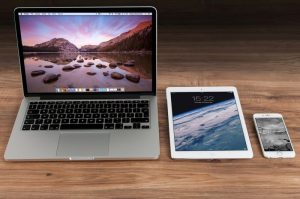 Source: Pexels
The forthcoming versions of the iOS and macOS will feature a special privacy icon that will pop up when you are asked to sign in to the company's own trusted apps. This move comes in an attempt to prevent Apple users from being duped into providing their iCloud password and account credentials to malicious attackers and is expected to help prevent phishing attacks. Apparently, the new icon will be a handshake – in blue in iOS and in a more conservative grey hue on macOS – an image that invokes trust and reliability.
As Apple users are gradually coming to the realisation that the "invulnerable to malware" myth is busted and that they should pay more attention to security features on their mobile devices, the introduction of this feature by Apple seems a step in the right direction – yet only one of many necessary.