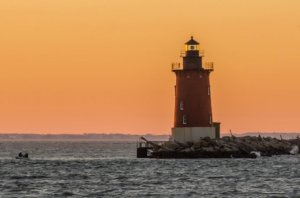 Delaware may be the smallest state in the United States, but a disproportionate number of businesses have incorporated there.
The state has created a process and infrastructure for forming corporations that rivals other states and make it easier and cheaper to start their business future there.
What Is A Delaware Corporation?
Leslie Wayne, reporting for The New York Times, wrote, "Nearly half of all public corporations in the United States are incorporated in Delaware." They include the likes of American Airlines, Apple, Bank of America, Berkshire Hathaway, Coca Cola, Ford, General Electric, and hundreds more.
The Delaware process and tax rules are so popular they also attract some corrupt businesses, but the great majority of Delaware corporations are among the most reputable businesses and top producers in the U.S. economy
The Pros Of A Delaware Corporation
Businesses begin their incorporation process at the Office of the Delaware Secretary of State, easily located through secstates.com. The Secretary of State has all the information and forms you need for researching and completing your incorporation.
Since 1792, the Delaware Court of Chancery has lead the states in its focus on corporate issues. The court is also responsible for deciding on cases rather than juries.
This means that, if your business winds up in litigation, you will have a judge who knows business law. Moreover, corporate lawyers everywhere are schooled in Delaware business law because it has ruled for some many years.
From the beginning, Delaware has offered flexible terms for how businesses are structured. The process permits ownership to be held by one person and does not require key stakeholders to have residence in Delaware.
Delaware's protects individuals' privacy because it does not require officers and board members to disclose their names. That privacy protection and the tax advantages afforded by Delaware law are prime attractions for businesses and investors.
Specifically, businesses that incorporate in Delaware but are not domiciled there are exempt from paying Delaware's corporate income tax as are the shares in the business held by people who are not residents of Delaware.
The breaks offered to businesses surpass those of other states, even those with generous business incentives. It's little wonder that businesses will sooner or later incorporate in the state.
The Cons of a Delaware Corporation
Of course, there are always two sides to a business issue, so there are several drawbacks to consider. Even though you form the corporation in Delaware, you still have to register it in the state where the business is located.
That means paying fees on other states as well as Delaware. Considering the low fees, this is not a problem for big business, but it can burden the small business that is moving towards incorporation.
Delaware does not require your business's leadership to be residents of the state, but you must pay for a Registered Agent for Service of Process. This is a Delaware resident who is designated as the person to serve subpoenas and other legal notices. Again, the fee is not high, but it is an annual expense.
Even though your corporation does not pay Delaware corporate income tax, you will pay an annual franchise tax for doing business in the state of Delaware. This payment is made in addition to franchise taxes paid in other states.

Also, the Delaware incorporation process requires paperwork which you may then have to redo in the state where your business is headquartered. This doubles and complicates your administrative work.
Say "Hello" To Delaware!
You will incorporate your company in Delaware, and everything is planned to encourage you to do so at the very beginning. But, you won't be alone!
Author's Bio
Michael F. Carroll is a freelance contributor to OutreachMama and Towering SEO who helps businesses find their audience online through research, content copy, and white papers. He frequently writes about management, marketing, and sales with customized outreach for digital marketing channels and outreach plans depending on the industry and competition.
Get Your FREE Ebook
DINKS (Dual Income No Kids) Finance focuses on personal finance for couples. While by no means financial experts, we strive to provide readers with new, innovative ways of thinking about finance. Sign up now to get our ebook, "Making Money Tips for Couples" FREE.