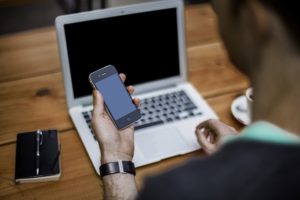 Managing your personal investments can be confusing and cause extreme stress and personal strife. This is especially true when it comes to understanding the market and knowing how to make the right investments. You are trying to do something beneficial for your future, but it can go awry very easily. However, it shouldn't be that bad. If you use the right tools, you can make money management much easier and stress free. One option that is readily available today is to use financial apps for mobile devices.
How It Should Work
A financial app is downloaded to your mobile device. You enter some information so the app is customized for your situation. You are then able to track your investments and stay on top of financial news with a few simple clicks. These apps let you organize all your information in one place, which translates into huge time savings. In addition, because this app is on your cell phone, you have the information at your fingertips all the time, making it simple to stay on top of things.
It is important to note, though, that an app should never take the place of a financial advisor. These apps are developed to act as an informational source. They should be used to help you become more educated and to improve your skills so you can more easily work with an advisor to make the right investments and boost your portfolio.
Reasons to Use
Using a financial app will provide you with the chance to elevate your investment game. You' ll gather great advice, get expert coaching, and learn techniques and skills that will benefit you as you work on your personal investment decisions. Apps report stock and financial market information so you stay current and aware of the trends and issues as they occur. They also offer educational sources and access to different tools that will help you to learn more about investing in general.
You can access this information online piece-by-piece, but having it all in one convenient place can save so much time. Plus, it ensures you never miss something important. If there is breaking news, most apps will send a push notification to ensure you're up-to-date on events.. Not only does this make it less time consuming and easier for you to manage your investments, but it also can enhance your whole experience.
Examples of Helpful Apps
There are many different options you'll have to choose from when deciding on a financial app. It's essential to learn more about each one and consider which one would best suit your needs. You want to find an app that is easy to use, has agreeable policies and is backed by a respected company in the industry. Here are a few helpful options.
The CNBC Business News and Finance app is backed by NBC. It allows you to stay up-to-date on business and financial news. It also gives you access to episodes of CNBC finance-related shows and includes the ability to track individual stocks.
The Bloomberg App features portfolio tools that allow you to track the market and plan investment opportunities. It also keeps you on top of business news with articles and market data.
The Fisher Investments app on iTunes is a relatively new app and its focus is to keep you current on what's happening with the financial markets. The app also provides a daily recap of important news events affecting investors, retirement tips, and access to the company's YouTube videos.
TheStreet app assists you with investments by providing news stories, tips, commentary, and analyses. Stock information is reported through the app, along with access to relevant articles and videos.
Each of these apps is unique. It's a good idea to learn more about the company behind the app and make sure the company can really back up the information they are providing. You don't want an app an amateur investor developed in their spare time. You need to ensure the information being provided is coming from experts, people who know what they are doing and have been successful in investing.
Investing can be very confusing. Without some type of professional guidance, you can easily stumble and even possibly make decisions that have less than desirable consequences. If you want to be a more informed investor, you should consider using a financial app that offers you advice and assistance that allows you to learn and understand the financial markets.
Get Your FREE Ebook
DINKS (Dual Income No Kids) Finance focuses on personal finance for couples. While by no means financial experts, we strive to provide readers with new, innovative ways of thinking about finance. Sign up now to get our ebook, "Making Money Tips for Couples" FREE.