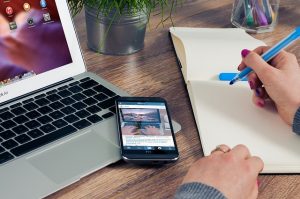 The modern world offers numerous challenges for young people and even if they have finished a reputable college, not every one of them wishes to have a full working day in the office. Many people realize that the Internet can be not only a perfect way to look for information or communication, but also a mean for earning money. Freelance writing has become incredibly popular nowadays and thousands of people each day try their hand at writing. Of course, not every person is ready to listen to critics and respond to it, but many people still approve that this area may be rather profitable.
Freelance writing: how to earn the first money
If you are a person who spends some time on the Web writing comments or reviews on someone else's articles, this job is meant for you. You shouldn't spend all day long in front of the screen, as usually, it is enough to have 1-2 hours to complete one average-sized piece. The question is: how to start? There is a variety of opportunities even for freshmen, but you should definitely make some steps to achieve the goal:
Determine how much time you can spend for writing and how long it takes you to write a piece of a certain size.
To find clients one may look through the most popular markets, freelance websites, paid blogs, etc. Be ready that this is a very competitive job and to win the contest you should grab the attention of the client when you offer him your service.
Don't be afraid of critics and asking questions as the more detailed task you receive, the better result you will get.
Utilize useful software to check your piece for any mistakes and plagiarism for it not to be revised. You can also visit forums and sites that provide help with the assignment if there are any difficulties.
Most of the services have a minimal required amount of money that can be transferred to your card, so sometimes there is a necessity to finish several tasks to get money.
Another issue about money is connected with orders that are paid directly to the writer for a delivered paper. Many clients wish to pay only via such systems as PayPal or WebMoney (depending on the country you live in), so account there is a must.
Never give up if you are not chosen for a project. The advice is to give as many applications as possible to achieve the goal. In some time, you will build up your reputation and get more experience, so clients will find you themselves and offer a job to you.
Benefits of earning money through freelance writing
Though this kind of job seems simple and not serious, in reality, everything is not that great. But, of course, such way of earning extra money has a number of advantages:
It is a part-time job that can be combined with your main position;
You can work everywhere and anytime if you have your PC, tablet or a smartphone with you;
There is no timetable, so the working days and topics of orders are determined solely by you;
This job improves your skills and widens your horizons;
You can communicate with people from different countries and get new acquaintances, etc.
Freelance writing is really a rewarding job, especially for those, who adores the writing process and always ready to speak up their mind on different topics. This way of making profit can be used by every person regardless of age, place of birth or color of skin. The specific education is not a must, as there are people with Shakespeare's talent and inborn creativity capable of creating real masterpieces from a scratch. So if you need money and want to try your hand at writing, this job is meant for you. Make money from working home with the help of Helphomework.net.
Like DINKS? Subscribe!
Subscribe to get the latest DINKS Finance content by email.