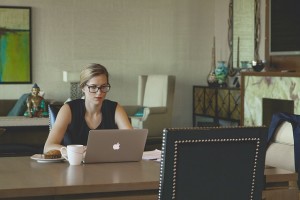 Forex is the commonly used abbreviation for "foreign exchange," and it's used to describe trading in the foreign exchange market. It's similar to stock trading; stock traders will buy stocks if they believe the price of that stock is going to rise, and they will sell stocks if they believe the value will fall. Likewise, forex traders will buy a currency pair if they think the exchange rate will rise, and they will sell the pair if they think the exchange rate will fall. If you're interested in trading forex, keep reading for helpful tips to keep in mind as you get started.
Define Your Goals
You need to understand your own financial goals before you can begin forex trading. Are you looking to make some extra income, or are you striving for financial independence? How much time do you have available for trading? These are just a few of the many questions you need to ask yourself as you define your own trading goals. Not only will these goals give you a clear idea of what type of approach you need to take toward trading, but it will also make it easier to abandon the endeavor if your analysis shows you can't make a profit.
Choose the Right Broker
It's incredibly important to choose a broker who is right for you. When you're looking for a broker, make sure you know how good the customer service is. There's nothing worse than being on hold for 20 minutes as you wait for help. Before you open an account, test the company's help desk by calling in with a question.
If you're not sure what to ask, you can see if the company offers interest on the cash you have in your brokerage account. Some companies will offer up to five percent interest, while others offer nothing at all. Knowing this information can certainly help you come to a decision.
Keep a Printed Record
Keep a journal of all your trading activity, and make careful notes of your successes and mistakes so you can see what works and what doesn't. Also, be sure to make note of any emotional reasons, such as panic, anxiety, or greed, that made you make a trade. Use this record as a learning tool to help you make better decisions.
Perform Weekend Analysis
When the markets are closed on the weekend, study the weekly charts for news or patterns that can affect your trade. Once you know what kinds of action to look for, you can put together a plan for the upcoming trading week. After you've made some money trading forex, you might need to make a money transfer for personal or business reasons. Using a service such as Ria Money Transfer can help you safely and securely transfer your money. They also offer a price calculator for the exchange rate, so you'll always know exactly how much you're spending.
If you feel you have the experience, investment objectives, and acceptance of risk to handle trading forex, you just might be ready to give this type of trading a try.
Get Your FREE Ebook
DINKS (Dual Income No Kids) Finance focuses on personal finance for couples. While by no means financial experts, we strive to provide readers with new, innovative ways of thinking about finance. Sign up now to get our ebook, "Making Money Tips for Couples" FREE.