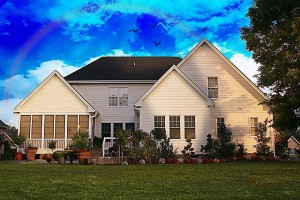 When the time comes to sell your home, you will obviously want to try and get the best possible price, and there are a few strategies you can employ in order to maximize your profit.
Firms like www.slatergordon.co.uk are regularly handling property transactions for their clients and by the time you get to the point of instructing a solicitor to handle your sale, you will want to have done everything you can to get the best sale price.
Kerb appeal
The fundamental starting point to successfully selling your home is to make sure it looks at its best for prospective purchasers, which is why kerb appeal is so important.
There are many would-be buyers who pull up outside of a property that they have arranged to view and take a look at the outside, then decide to drive on as they don't like what see on the outside, on the assumption that the inside might be more of the same.
Giving the front door a fresh coat of paint, tidying up the garden and generally working on making it look inviting, will work wonders for putting buyers in the right frame of mind when they enter the property.
It will also help them to be a bit more forgiving of any areas that need decorating inside, so work on giving your property kerb appeal if you want to firstly attract buyers and secondly, get them to pay the right price.
Blank canvas
Your home is your own personal space and you obviously will have it laid out and decorated just how you want it.
What you are ultimately trying to do when selling, is to create an environment where potential buyers could imagine themselves living there and where their furniture might go.
They won't be able to do that if there is lots of clutter everywhere and the colour scheme is somewhat overpowering.
Consider de-personalising your home as much as possible and clear away as much clutter a possible, so that each room looks as large as possible and people can imagine how they organise the space if it was theirs.
A plain wallcovering will also be an advantage, so that you can create a blank canvas for potential buyers to fire up their imagination and fall in love with your home, which hopefully means they will make a decent offer to secure the property.
Think about your target market
Another excellent strategy to ensure that you get a good sale price, is to lay out your home based on how you think it will appeal to your target market.
Think about the type of person who might want to buy your home. If it has enough bedrooms to be considered an ideal family home and this is your target market, make sure the rooms are presented as bedrooms.
This might mean clearing out a spare bedroom and even staging it as a bedroom despite the fact you use it for storage, so that families viewing, can see themselves living there.
There are plenty of small strategies to use, which don't always cost a lot of money or anything at all but your time. They could however, make a big difference to how much you sell your home for.
Zoe Davison has worked in real estate for several years and knows firsthand the struggles of buying and selling. She writes for personal finance and property blogs in her free time.
Get Your FREE Ebook
DINKS (Dual Income No Kids) Finance focuses on personal finance for couples. While by no means financial experts, we strive to provide readers with new, innovative ways of thinking about finance. Sign up now to get our ebook, "Making Money Tips for Couples" FREE.