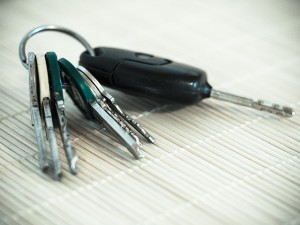 It's one of the most common personal finance questions of all time: should you sell your old car, trade it in, and when? When it's time to get rid of the old clunker, there are a few ways to go about doing it. Here's what you need to know.
Consider Wear And Tear On the Vehicle
Before you trade in your vehicle, consider the wear and tear on it. Even if you've taken good care of your vehicle, some high-priced service repairs are usually unavoidable. You need to have the timing belt replaced, for example. Most cars need to have the axles done at some point too. These are expensive jobs.
Wear-and-tear items also include hoses that crack, fans that break, belts that fray and crack, and parts that wear down like clutches and brake pads. Most of the expensive repairs, like water pump and timing belt changes, clock in at an impressive $1,200. But, while that might seem like a lot of money, it's not really.
Consider a new vehicle costs upwards of $10,000 or more. And, that's for an older vehicle with high miles – 90,000 to 120,000 miles.
At this point, many people think about trading in their vehicle because they don't want to deal with the maintenance. But, this might be the best time to consider all options, not just the one that puts you into a different vehicle.
Why You Should Fix Up Your Vehicle
In almost every case, it's cheaper to fix up your vehicle than it is to buy a comparable vehicle. This is because, once you're done fixing up the old vehicle, you have a vehicle with brand new or like-new parts. While something like a blown motor might cost you $3,000 to $7,000 to rebuild, consider the cost of a new vehicle with a motor of the same age as the new motor you'd replace the blown one with.
Let's say your vehicle's engine and transmission needs to be overhauled. It costs $5,000 for a motor with 40,000 miles on it. A new vehicle with an engine with the same number of miles may cost $20,000 or more.
You'll also have to pay interest on a new loan for the vehicle. And, even new vehicles come with their own set of issues, like more expensive tires, higher insurance and registration fees, and higher property taxes if you live in a state that assesses taxes on personal property.
A new vehicle typically loses roughly 22 percent of its value in the first year.
Your old car has already taken the appreciation hit.
Then there's the sentimentality factor. If you just like your vehicle, you may want to spend more money on it to keep it. Repairing it and maintaining it will help you keep it on the road longer.
It will also allow you to save more money since you won't have a car payment.
Maintaining Your Old Vehicle
If you do decide to keep your old vehicle, make sure you maintain it. Follow the manufacturer's service schedule, changing the oil, tires, belts, hoses, and spark plugs at the recommended intervals. You will also have to check and replace the brake pads, brake rotors, clutch, flywheel, timing belt and water pump, and other wear parts at the end of their useful service life.
Why You Should Sell And Buy New
While fixing up an old vehicle sounds like a way to save money, there are headaches that all old cars suffer from. Usually, it's more frequent breakdowns. And, if you're just plain sick and tired of an unreliable vehicle, you might want to get rid of your clunker and buy a new vehicle that's more reliable and less prone to failure.
Newer vehicles also typically come with warranties that last for at least 3 to 5 years. Most have drivetrain warranties so you won't have to worry about the vehicle breaking down.
Maybe you want the safety of a newer vehicle (e.g. airbags), or you're embarrassed by your own vehicle, or you're just tired of the rattles and unpredictability of your car.
How You Should Sell
How you should sell is sometimes as important as when you should sell. There are really only two ways to sell your vehicle. You either sell it yourself or you trade it in to a dealer for a newer vehicle.
Selling the vehicle yourself is simple enough. Set up an ad on a local vehicle marketplace and interview potential buyers. Always only accept cash for sale, never checks or wire transfers.
If selling to a dealer, you can use the value of the vehicle as negotiation leverage for the sale price of the new car you're buying.
When Should You Buy A New Vehicle?
www.StLouisAutoStop.com can help you figure out whether it makes sense to buy used or new.
But, if you need a rough calculation, one fast way to come to the decision to buy a new car is by doing some math. If the cost to repair your current vehicle is equal to or greater than buying a new vehicle, buy a new vehicle. If it's less than, you could keep your old vehicle.
Another way to look at it is if the cost of repairs is greater than the value of one year's worth of monthly payments, buy a new vehicle.
If affordability is a problem, you can always lease a new vehicle.
Used vehicles are a great buy (usually) because the depreciation has already been factored into the price of it.
Brian Langley has worked in sales since leaving school and recently opened his own used car dealership. A friendly guy who is there to help people rather than rip them off, he shares his knowledge through his writing. His articles appear mostly on personal finance and auto related sites.
Get Your FREE Ebook
DINKS (Dual Income No Kids) Finance focuses on personal finance for couples. While by no means financial experts, we strive to provide readers with new, innovative ways of thinking about finance. Sign up now to get our ebook, "Making Money Tips for Couples" FREE.