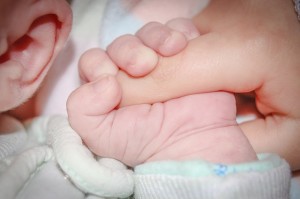 As your family grows, it's important to maintain a financially secure position, and this means keeping your credit rating positive.
Children are many things to different people, and all of them are different. One thing we can agree on, however, is that they are expensive, and those expenses only mount up as they get older. For an increasing number of families, this means that credit card and short-term loans have become part of life – and such loans are an invaluable tool for juggling the family expenses as long as the payments are kept up. When applying for loans and credit cards your credit rating will be crucial in a potential lender's final decision as to whether or not you are accepted, so ensuring your credit score is as high as possible really does matter.
What is a credit rating?
A credit rating is a score that tells lenders you are responsible enough to cope with the money you borrow and have the ability to pay it back. It takes into account the history you have had with credit in the past, and processes this information into a score. Lenders use this score to determine not only whether to let you borrow from them at all, but also how much and at what rate of interest.
What makes a credit rating good?
Obviously, if you have failed to pay off a credit card or loan in the past, your credit rating will be very poor. But even those people who always pay their bills may find their score is lower than could be hoped.
You can take proactive steps to improve your credit rating, for example by paying off your credit card regularly and paying your bills on time – energy and utility companies, as well as banks, are most likely to report late payments to credit rating agencies. Setting up standing orders can help with this, so that you don't need to worry about always remembering.
There are also other things that are less obvious, such as being on the electoral register, being a homeowner and having kept a stable address for the past five years. People who cannot be satisfactorily placed at a fixed address are high-risk options for most moneylenders. Similarly, getting a landline telephone connection installed also shows proof of address and a commitment to that place.
Use your credit card sensibly
It's not a good idea to take out a lot of credit cards that you don't use. A credit rating notes how much credit you have available, as well as what you actually use. So don't be afraid to use your credit card – regular use, as well as regular repayments, are what lenders like to see.
The benefits of short-term loans
Taking out short term loans can be a positive thing – as long as you are confident that you will be able to pay it off in the allotted time. There are many companies that offer these kinds of loans, which are intended to give the borrower a little financial breathing space between paychecks. Interest rates are reasonable if loans are paid off quickly. One example of these kind of loans are those offered by Amscot Financial – 'The Money Superstore' – a Florida company founded by Ian Mackechnie.
All families need money to keep them afloat and using credit is no longer something to be afraid of. Both credit cards and short-term loans can be invaluable when the kids' needs just can't wait, and paying them off regularly every payday will keep both lenders and credit rating agencies happy, too.
Get Your FREE Ebook
DINKS (Dual Income No Kids) Finance focuses on personal finance for couples. While by no means financial experts, we strive to provide readers with new, innovative ways of thinking about finance. Sign up now to get our ebook, "Making Money Tips for Couples" FREE.