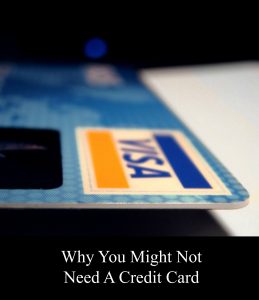 A lot of people have credit card debt. The amounts vary per person. If you're responsible you should be able to pay it off in ample time. Unfortunately, everyone isn't that responsible. Many people let the credit card debt add up over time and struggle just to make minimum payments. Some are actually better off without a credit card for various reasons. Today's post covers a few reasons why you might not need a credit card.
You already have large debt that you're struggling with.
If you already have a large amount of debt that you're struggling with you may need to think twice about getting a credit card. Getting a credit card and using it irresponsibly can make your debt much higher. In the past, I've made the mistake of using my credit card when I shouldn't have a few times. I've gotten a grip on it now, but I am still working to eliminate that debt. The name of the game is to save money, not dish more out for debt payments. If you really want to get a credit card eliminate some of your debt first.
You're not exactly sure how it works.
The next reason you might not need a credit card is because you might not be sure exactly how it works. I know when some people hear the word credit card they think they have money to spend. While technically you do have money (credit) to spend, many don't immediately think about repayment. Some people, especially younger ones fail to think about interest rates. Many people also only make the minimum payment because that's the amount that their bill tells them to. Make sure you educate yourself about your credit card if you do decide to get one.
Family has a history of debt problems
How were your parents with money when you were growing up? Did they have a lot of credit card debt? Do they still have a lot of credit card debt? Did they educate you about credit card usage? If the answers to these questions are not generally positive you may need to think a while before you get a credit card. History repeats itself if you're not careful. You don't want to make the same mistakes as your parents did. As I stated in the previous paragraphs take as much time as you need to learn and understand your credit card fully.
You have a spending problem
If you have a spending problem you don't need a credit card. It will only make things worse. For some people, a credit card allows them to become impulse buyers. I've seen people splurge for no reason once they get that credit card. Don't fall into the trap. That money has to be paid back. Get your spending problem is in order before you decide to get a credit card.
These are just a few reasons why you might not need a credit card. Everybody is different. These reasons may or may not apply to you. If you choose to get a credit card please use it wisely.
Do you have a credit card? Have you had spending problems with it?
Get Your FREE Ebook
DINKS (Dual Income No Kids) Finance focuses on personal finance for couples. While by no means financial experts, we strive to provide readers with new, innovative ways of thinking about finance. Sign up now to get our ebook, "Making Money Tips for Couples" FREE.