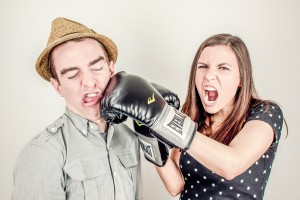 Starting a business is always going to be risky, but even more so when it's with your partner. Why? Well, the worst-case scenario is competition, and within any workplace, that alone would be enough to divide colleagues. Competition with a partner, though, would likely drive you both apart. It's good to be tested to some extent, but as this article from the BBC points out, that doesn't mean you should throw things at it just to test its endurance. If you've been thinking about starting a business with your partner, there's a few things you should consider before making any final decisions.
Decide your roles at the beginning.
When there's two of you, you need to decide who will be in charge of what. If one of you is more organised and methodical, you might want to take on the task of organising your finances, looking into the type of insurance your business needs, and managing all the paperwork. If you prefer to deal with people, you can look after building relationships with potential clients and seek out business advice and sources of funding. Don't try and split everything evenly and play to each other's strengths.
You need the same overall aim for the business.
Some people are happy maintaining their business as a lifestyle choice – making enough money to live on, but not looking to scale up and start an international operation. For others, though, expansion is where they see their business going. Whatever your goals are, both of you need to agree, otherwise you'll both be pulling in opposite directions – and that will ultimately put your personal relationship under strain.
Define clear boundaries.
This really is one of those things that's easier said than done. Just think how many successful businesspeople have allowed their work to cross over into their personal lives, and vice-versa. The truth is, it's very tough to stop working when it's your own business. You want it to succeed, and the only way to do that is by putting in the hard graft and hours. But for couples, there needs to be a clear boundary where you agree to both stop talking about work and your hobbies and interests outside of the business.
Be aware that it might not work out.
It's well known that 80% of new businesses fail within the first 18 months, so there's a very real risk of the same thing happening to your business. There are plenty of couple-founded success stories, such as Flickr and Kate Spade New York – but for all their success, the founders still split. If the worst-case scenario happens, you need to think about what's more important – your relationship, or your business.
There's some real financial and personal benefits of starting a business as a couple, but it can almost be like juggling two marriages. Be sure to talk openly about how you plan to share your responsibilities – at work and at home – and try not to get caught between the two.
Get Your FREE Ebook
DINKS (Dual Income No Kids) Finance focuses on personal finance for couples. While by no means financial experts, we strive to provide readers with new, innovative ways of thinking about finance. Sign up now to get our ebook, "Making Money Tips for Couples" FREE.