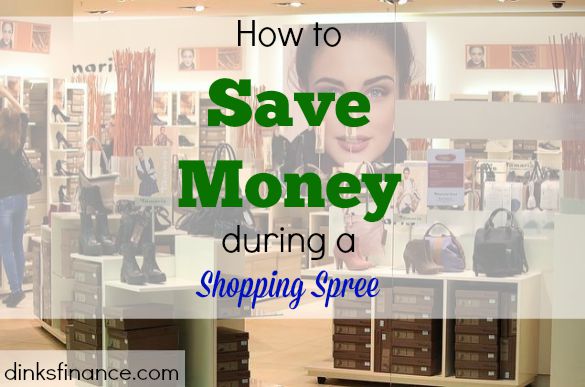 If you ever get the urge to spend you may be binge shopper, like I used to be.  I would get into these moods (some may even say manic) where I could never spend enough money.  I would tear through a shopping mall and spend money for days, unfortunately it was usually money I didn't have which is why I ended up in a  lot of debt early on in life.
Of course the solution to saving money during a shopping spree is to talk about all the ways to avoid the urge to spend such as leaving your credit card at home and waiting two days before making any purchases in hopes of letting the manic pass.  But that's been said and done.  It also doesn't help solve the problem a.k.a. satisfy the craving.
So today we're going to talk all about the ways you can save money during a shopping spree.  Trust me you'll feel a lot better about your splurge if it doesn't cost a lot of money.
Look online for sales
I find that very often a company's website has far more items on sale than the store does.  Why?  Probably because the store is limited in space and they want to fill it up with regular priced items so they can make the biggest profit.
Plus, there are often coupons for online shopping, like Lowe's Canada coupon.
I love shopping online because it's easy and the items are delivered right to my door.  The downside is you can't try anything on and may end up going to the store anyways to return the items.
Fill out the survey
Many stores offer a discount on your next purchase in exchange for taking their customer service survey.  This is absolutely one of my little savings tricks.  I will go into a store and buy something for $2 just so I can get the customer service survey on my receipt.
Then I fill out the survey, get my discount and go back and make my big purchase.  What better way to save money?  Some stores, like Sephora, also offer a chance to win a gift card for taking their survey.
Check your receipt
Before you recycle your receipt check to see if the store is offering a discount on your next purchase.  The Body Shop often gives $15 off your next purchase of $40 when you present a previous receipt. That's almost 50% your next purchase.  If you like the store you're going to shop there anyways so why not save some money while doing so.
Grocery stores also do this.  Their receipts often have coupons on them that you can use on your next trip to the grocery store.
Go with a friend
I like shopping alone because it saves time, however shopping with a friend saves money.  If you're on the fence about an outfit your friend will tell you if it looks good or not.  If you're spending too much your friend will tell you it's time to go home – at least my friends do.
What's your trick to saving money during a shopping spree?
Get Your FREE Ebook
DINKS (Dual Income No Kids) Finance focuses on personal finance for couples. While by no means financial experts, we strive to provide readers with new, innovative ways of thinking about finance. Sign up now to get our ebook, "Making Money Tips for Couples" FREE.