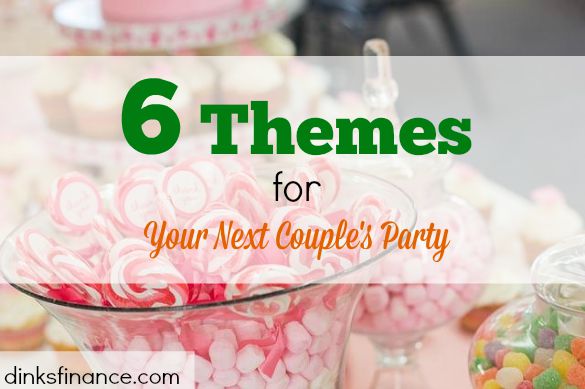 Good morning Dinks.  Do you and your sweetheart like entertaining?  I remember my parents used to always entertain when I was a kid.
My favorite part of these party filled weekends – other than no adult supervision – was the food.  My Dad loves to cook and always planned a themed meal to go along with whatever theme they were partying to that weekend.  Then there was the clothes.  Themed parties require appropriate attire and it's always fun to watch your parents get dressed up.
So here's the question, do you and your spouse entertain?
If you're transforming your backyard into a party ground this summer here are some themes for your next party:
Tropical
If your backyard is already filled with colorful flowers all you'll need for a tropical themed party is a few tiki lamps, umbrellas for the drinks and a lot of fruit juice with rum.  Let guests come dressed like their going on vacation and it's sure to be a good time because everyone lets loose when they're on vacation.
Your favorite movie
I love this idea for a party.  Getting dressed up like your favorite characters from a movie seems like a really fun idea.  I've seen a Quentin Tarantino movie themed party with characters from Kill Bill and Pulp Fiction.
If I was going to host a movie party I'd pick one of my favorite movies which are Jaws, Clue and The Hangover.  If we're going back my favorite old school movies are Big Trouble in Little China and Warriors so those could definitely be turned into a theme.
World travels
My best friend is part of a dinner party group who have a world travels theme.  There are four couples who rotate between countries or regions every Saturday night.  The host gets to pick the destination, they serve native food dishes and all the guests dress up in traditional couture.  They've done everything from Hillbilly Tennessee where they served fried chicken and ribs to Exotic Morocco where they served couscous.
Winter wonderland
How great would it be to throw a winter themed  party in your backyard in the middle of summer.  During the cold, snowy months we very rarely get to enjoy the outside and fresh air so why not do it in August.  Have everyone wear white, serve frozen hot chocolate, iced apple cider and any other warm beverages that can be served cold.
Hollywood
There's no party like a Hollywood party.  Ask your guests to break out the red lipstick, fedoras, and ball gowns to host a Hollywood themed party.  With busy schedules we very rarely get to get dressed up to the nines so give yourself (and your friends) an excuse.
Celebrity couples
I love this idea.  Let couples get creative with their costumes.  I'm sure you'll see everything from Ted and Tina Turner to Bonnie and Clyde.
Get Your FREE Ebook
DINKS (Dual Income No Kids) Finance focuses on personal finance for couples. While by no means financial experts, we strive to provide readers with new, innovative ways of thinking about finance. Sign up now to get our ebook, "Making Money Tips for Couples" FREE.