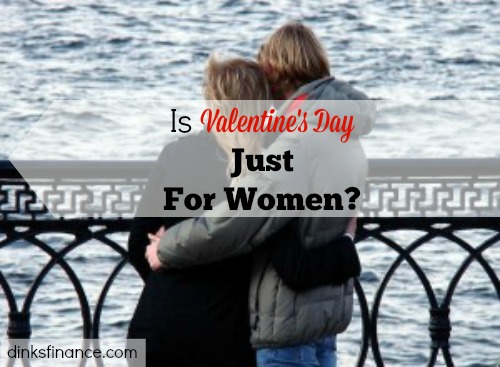 Good morning Dinks.  And to all you men who are frantically searching stores to find the perfect Valentine's Day gift – Good Luck.  Let me let you in on a little Valentine's Day secret – we are going to love whatever you get us because it's the thought that counts.  Right?  Wrong!
But I am going to help you out because in all honesty Valentine's Day is really just for women, isn't it?  Think about your plans for Valentine's Day, did you make a reservation at your wife's favorite restaurant?  Think about what you're doing right now, are you buying jewelry for your girlfriend?
Eeerrrr, that's so overrated.  The key to Valentine's Day is not to spend a lot of money trying to make your sweetheart happy.  The key to a happy Valentine's Day is to find a gift that's for YOUR sweetheart, not a gift that you think every woman wants.
What is Valentine's Day, really?
I don't think Valentine's Day is a holiday for people to showcase their love for one another, it's a day for men to show women how much they love them.  I'm OK with that.  I'm OK with it because Hallmark says that's the norm and I'm OK with it as long as my boyfriend doesn't get me a cookie cutter gift.
So stop whatever you're doing and don't buy earrings if your wife doesn't have hear ears pierced and don't get your girlfriend flowers if she has never told you how much she loves them.  Stop and take a moment to think about what your significant other really loves and forget about the stuffed animals that Hallmark tells you to buy.
Yes gentlemen you have to get a Valentine's Day Gift
I know some men like to duck out of Valentine's Day with the excuse that they don't need to display their love only one day a year.  Well that's a cop out and it doesn't fly in the Kristina/Nick household.  Yes it's true that boyfriends and husbands should showcase their love all year round, but Hallmark also says they have to do it on February 14th so that's exactly what they should do.
In my books Valentine's Day isn't as special as a birthday or anniversary so the gifts don't have to be exaggerated, but they do have to be present.  A simple box of chocolates and a card will do as long as this day is acknowledged no matter how insignificant my boyfriend thinks it is.
It doesn't have to be grand, it just has to be special
In fact Nick and I never have a big hoopla on Valentine's Day.  We did a few times when we were younger and first started dating but that quickly died out as the winters got colder and the restaurants got more crowded.  Back in college we went out for dinner on Valentine's Day but neither of us enjoyed it because we really couldn't even afford it.
Now we celebrate Valentine's Day at home, just the two of us.  This year we'll be watching the NBA All Star weekend and that's OK with me – as long as chocolate is involved.
The perfect Valentine's Day gift doesn't have to be expensive
I can't speak for women around the world but I personally appreciate gifts much more when I actually like them.  Yes I should have a boyfriend who knows what I like after 15 years and yes it's honestly the thought that counts but wouldn't it be even better – and much simpler – if we just told our significant others what to buy?!  I mean he has to buy a gift regardless so shouldn't it be something I love.
Get Your FREE Ebook
DINKS (Dual Income No Kids) Finance focuses on personal finance for couples. While by no means financial experts, we strive to provide readers with new, innovative ways of thinking about finance. Sign up now to get our ebook, "Making Money Tips for Couples" FREE.