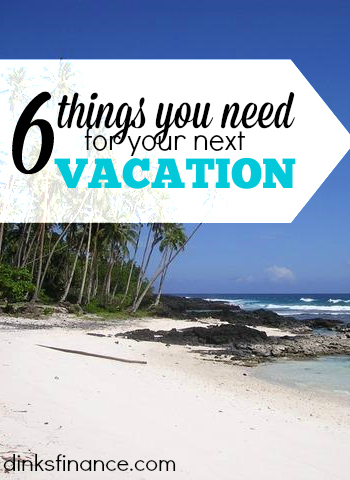 The weather is getting cold and the holidays are quickly approaching.  You may be getting ready to leave the cold weather behind and head to warmer climates for a week or two.   As you know I love to travel, I mean I really really love to get away.  I know some people like to go on vacation but hate getting there – I am not one of those people.  I love travelling, everything from packing my bags to exploring new airports.  During my last trip to New Orleans in September I learned a few things can make your life easier when travelling.
I love to travel and I definitely have a routine.  I pack a nap sack with my travel essentials such as my passport, my iPod and a good book.  When you're going on vacation everyone wants to get to their destination as quickly as possible and I've found having a few other things on hand will make your travels a little bit smoother.
6 things you need for your next vacation:
A pen.  Filling out your baggage tags and customs forms goes a lot easier if you  have your own pen.  When you don't have to borrow a pen and wait for the in front of you to finish filling out their forms it helps move the line along faster and it gets you in and out a lot quicker.  I always carry a pen in my bag because it's convenient to add up expenses, write things down I want to remember and fill out forms.
Travel insurance.  Insurance is kind of a hit and miss with me, I hate paying for it but the one time in my 34 years I needed it I was glad I had it.  In 2009 I went to Spain and was stung by an awful bug.  Of course having travel insurance helped me find a Doctor who would treat me ASAP as well as a doctor who spoke English.  Having that card in my wallet was very helpful.
Some local currency.  I always like to have at least twenty dollars of local currency in my wallet because there are a few things you might want to do before you find a place to exchange your money such as catch a cab, buy a drink or grab something to eat.  Having a few dollars in your wallet when travelling is always a good idea and it can help avoid foreign ATM fees.
Your itinerary.  Having a printed copy of your itinerary is a great idea because if you're travelling in a country where you don't speak the language it's easier to show someone where to want to go instead of trying to learn a new language in less than five minutes.
A dictionary.  I have an electronic dictionary that I carry around when I travel because it helps me learn key words instantly.  All I have to do is type in a word and the new language pops out.  I may not be able to form complete sentences but at least I can keep yelling out random words.
Get Your FREE Ebook
DINKS (Dual Income No Kids) Finance focuses on personal finance for couples. While by no means financial experts, we strive to provide readers with new, innovative ways of thinking about finance. Sign up now to get our ebook, "Making Money Tips for Couples" FREE.