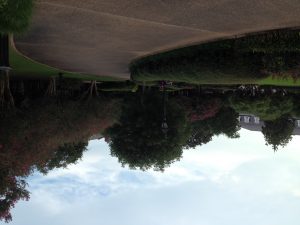 Good morning Dinks.  It's go time in my relationship today.  As you read this Nick and I are finally moving into our new apartment.  More to come on that next week.
This week my employer released more information about the sale of my company to a competitor.  In case you have no idea what I'm talking about three weeks ago my employer announced as of January we are being acquired and jobs, although they are trying to be kept, are not guaranteed.  When the news broke my mind was racing and in true Kristina fashion I made a pro/con list of all the reasons I should start looking for a new job as well as all the reasons why I should wait and see what happens.
Has this ever happened to you?
Needless to say since the news broke my office has been buzzing with rumors, speculation and "what if" scenarios.  Not too many details were released except that there has been an offer to purchase and it is pending a shareholder vote in December.  We don't know who will get to keep their jobs, who will be transferred to the new company or who will receive a severance package and be forced to look for a new job.  That in itself is very unsettling.
Nick keeps telling me that everything will be fine.  He keeps reassuring me that I probably won't lose my job in January.  Nick is the complete opposite of me when it comes to situations like this; he doesn't believe in worrying about something that he can't control.  Whereas I stay up at night worrying about what will happen if I lose my job.  To be honest the thought of job searching makes me sick to my stomach.  Less than two years ago I searched for this job, this great job, and now I may be losing it.
A new job and maybe a new beginning
I am not sure what's going to happen with the new job, but I hope it brings good things for me.  The head quarters of my new potential employer are not in the city where I currently live.  This is sad because it could mean big changes.  However at the same time this could be the big break I've been waiting for to relocate.
The new firm has offices all around North America and actually all around the world.  However I'm not so excited about moving abroad as I am about moving to a fantastic North American city such as New York or Boston.
A change in my job will be a change in my relationship
If I do end up moving to keep my job it will be the end of my relationship.  Nick has already told me that he's not interested in relocating.  So that is definitely something I'm taking into consideration.  However, I have been dying to move to a new city and this may be my chance.
The question now is do I stay with my current employer in hopes of still having a job in January when the acquisition actually happens, or do I play offence on the transition and start to look for a new job now.  There are a few pros to looking for a new job now, one: I will find a permanent job and still have it in January and two: I won't be searching for a new job with the rest of my co-workers if we do end up getting pink slips come the New Year.
What would you do?
Get Your FREE Ebook
DINKS (Dual Income No Kids) Finance focuses on personal finance for couples. While by no means financial experts, we strive to provide readers with new, innovative ways of thinking about finance. Sign up now to get our ebook, "Making Money Tips for Couples" FREE.