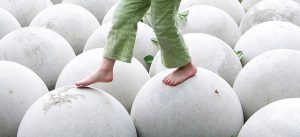 Good morning Dinks.  There are just some things that are bad for your relationship, things like being stuck in traffic, always wanting to be right and being a work-a-holic.  The key to happiness in a relationship is patience, understanding and a whole lot of compromise, especially when it comes to work and your career.
Finding a balance between being successful at work and being happy at home has always been a struggle for me.  Almost every employer I've worked for has talked about the importance of a work life balance.  The problem with this (at least in finance) is employers don't practice what they preach.  My former employer (a major international bank) gave us all the tools we needed to understand the theory of a work life balance but very rarely put it into practice.
When I was in my 20s I was all about climbing the corporate ladder.  I wanted to be the best financial planner in the city – and for a few years I was.  When I left the world of banking I was ranked #2 in profitability.  I was young, successful and making a ton of cash.  However I was overworked, tired and the stress was taking a toll on my relationship with my boyfriend Nick.
At 33 years old I am happy to say that I've finally started to find a work life balance and it has nothing to do with my employer but everything to do with me.  After years of straining my relationship with Nick I decided that the money is not worth the stress.  I know that sounds weird coming from a financial planner who works in an industry ruled by money, but it's true.
Here are 5 ways I found a work life balance:
Find a fixed schedule that works for you both.  Finding a work life balance is about working enough to make the money you need but at the same time making time for your relationship.  Sometimes busy couples implement a date night to make sure they connect at least once a week without any distractions.
Put your relationship first.  Of course we need money to live but our loved one is who we come home to every night.  I stopped going to work initiated social activities because it was just more time away from my relationship.  When I say put your relationship first it means considering your spouse before making any decisions.  You don't have to be glued to each other at the hip, but being at home shows your spouse you care.
Be understanding.  If you really need to be away from home for work, your spouse should understand.  As long as this is the exception, not the rule.  Vice versa is also true, I am understanding when Nick has to attend after hours events for work as long as it's not all the time.  I don't want to sound like a crazy controlling girlfriend but when your spouse spends more time outside the house than at home it gives the impression they don't really want to be with you.
Just take a break.  Sometimes for personal peace and peace in your relationship you just need to take a break.  In my life there is always work to be done.  When I finish a project I can always start a new one to get ahead of the game, but I have learned not to do that.  When my work is done I shut everything off and just spend time at home with Nick.
How do you find the perfect balance between work and life?
Photo from Flickr
Get Your FREE Ebook
DINKS (Dual Income No Kids) Finance focuses on personal finance for couples. While by no means financial experts, we strive to provide readers with new, innovative ways of thinking about finance. Sign up now to get our ebook, "Making Money Tips for Couples" FREE.