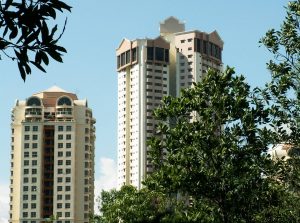 Good morning Dinks.  As you know Nick and I live downtown in a big city.  We live in a high rise apartment and we've always loved it…until now.  As we get older we love the convenience and safety of living in a high rise but are starting to hate the close quarters and proximity to other people.  So come this fall we are moving.
Our location will change but our lifestyle will stay the same
After several long discussions Nick and I made the decision to stay in the city. We talked about moving to the suburbs but we just aren't ready for that type of move yet.  We are going to move to a better apartment in the city, preferably still downtown but in a different neighborhood.  I was born and raised in a small town so I know firsthand what suburban living is like.  It definitely has it's perks but I much prefer living in a city.
We don't want to live in a high rise building anymore, we are looking to live in a brownstone or triplex.  We are currently renting and you know I love it.  However if we can't find all the amenities we are looking for in a rental we may have to buy our next apartment.  We want to have more space, possibly an extra room, no neighbors and our own washer and dryer.  Is that too much to ask for an apartment in the city?
This is what I love about living in a big city:
The job opportunities.  With business centers and city centers there is no shortage of tall office buildings and head offices with job opportunities in big cities.  This is not to say that suburbs and small towns don't offer jobs, I mean everyone has to work.  It's just that we have more opportunities living in the city.
City salaries are higher.  Yes it's true our salaries in the city are a lot higher than those in the suburbs but the cost of living is also a lot higher.  A few years ago Nick and I were thinking of relocating to a smaller town and my employer confirmed that my salary would be adjusted accordingly.  I know that my expenses would probably be lower in a small town but the pay cut would be a hit to my ego.
It's cheaper to travel.  Flying anywhere from a city with a hub is a lot cheaper.  It's also a lot more convenience because big cities offer direct flights.  I love travelling so being centrally located to other major cities, country cabins and the beach is a major plus for city living.
The things I miss about living in a small town:
My feet in fresh cut grass.  I know this sounds crazy but I really miss walking around without my shoes.  Whenever I visit my parents in my hometown I rarely wear shoes, unless we are going out.  I hate wearing socks and I hate wearing shoes even more…unless they are flip flops.  It's safe to say I will not walk around a big city without my shoes.
The absolute quiet.  Two of my biggest fears are complete silence and total darkness.  However I can definitely live without the racket from my noisy neighbor when I'm trying to sleep.
What do you prefer – big city living or small town living?
Photo from Flickr
Get Your FREE Ebook
DINKS (Dual Income No Kids) Finance focuses on personal finance for couples. While by no means financial experts, we strive to provide readers with new, innovative ways of thinking about finance. Sign up now to get our ebook, "Making Money Tips for Couples" FREE.