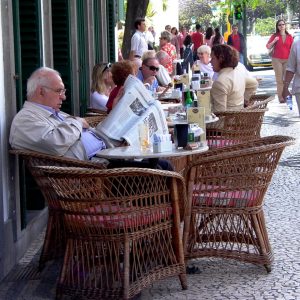 Good morning Dinks. Let me ask you a question, when you need a new product or service who do you ask for advice? If you want to eat at a new restaurant, if you want to buy a new face wash or if you are trying to choose your next vacation destination who do you ask? Now if you wanted a referral for financial advice would you ask the same person?
I like to try new products based on advertisements I see in magazines. I am one of those people who is really drawn to advertisements with famous people. When I see a product in a magazine that I want to try I like to rip the page out and then pick it up next time I'm in the store. When I am looking for a specific product or service I like to ask my friends for their opinions. However I know that some of my friends have more extravagant tastes than I do so their referrals are usually out of my price range.
Where do you get your financial advice?
Maybe you go directly to your bank. As a former bank employee I admire bank loyalty. I liked being the first source of information for my clients. There are so many products offered by each bank such as foreign exchange transactions, investment options and credit solutions that it's rare clients would need to go anywhere else for financial advice. However we live in a world ruled by the bottom line. Sometimes a 0.50% interest rate can make clients want to shop around for their banking needs.
Maybe you still talk with your friends. My friends and I always talk about money, but maybe that's because we are all current or former bank employees. Money is a major part of our professional lives, and in most cases it's the common factor of how we became friends. So talking about our money, both good and bad, just seems normal. If I wasn't a financial planner and needed financial advice I would definitely talk to my friends.
Maybe you are a DIY-er. Are you the type of person who likes to make their own decisions when it comes to matters of money? If so then maybe you prefer to do your own research and give your own financial advice. If this is the case you probably prefer to make your own investment transactions with a discount broker. Online discount broker firms offer attractive pricing and low fees in exchange for all products and services being DIY.
Maybe you need a professional. If you have sophisticated investment needs then you may need a broker firm for financial advice. If you have financial planning, estate planning or offshore investment needs then you should probably seek the expertise of a professional broker firm. Investment professionals charge fees for their services but if you need their service and can't provide it yourself through a discount broker then it's a fee well worth paying.
Where do you get your financial advice?
Photo from Flickr
Get Your FREE Ebook
DINKS (Dual Income No Kids) Finance focuses on personal finance for couples. While by no means financial experts, we strive to provide readers with new, innovative ways of thinking about finance. Sign up now to get our ebook, "Making Money Tips for Couples" FREE.