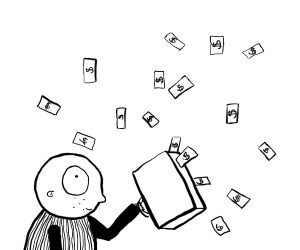 [The following is from Crystal at Budgeting in the Fun Stuff.  That's where she writes about her bills, saving for the future, and making sure to fit in fun stuff along the way.]
I'm married, 31 years old, and we don't have kids.  We've been putting off preparing for the worst for years since we thought it was self-explanatory.  If I die, my husband gets everything.  If he dies, I get everything.  Done.  But, what if we die together?
At our age and in our current health, if we died soon, it most likely would be in an accident.  And we are together a lot.  We live together, work together, and share the same friends.  When I thought about it like that, I decided we should probably have a plan.
Gathering Your Own Data
The hardest part for me was to gather together a solid list of all of our assets and our mortgage info.  Before this, I knew how to access all of our accounts, but I didn't have a list of account numbers for anyone else's benefit.  Knowing your login doesn't help whoever is dealing with your stuff when you are gone.
It's also important to remember everything – checking accounts, savings accounts, retirement accounts, stocks, bonds, a mortgage account, and titles to paid off property.  Also find your policy information so that those you leave behind can successfully claim your life insurance.  Don't forget living entities either.  Kids are obvious, but pets are sometimes forgotten.
Deciding What's Next
Once you have a solid list of your accounts and policies, you'll need to decide what to do with it all.  My husband and I asked for all of our assets to be liquidated and divided between a handful of people and charities.  If we have a child, we'll be using a lawyer to help iron out details like estate planning.  In the meantime, just liquidating everything and giving away cash sounds easier for everybody left.
We also included what to do with our remains just in case it wasn't obvious.  I've written about organ donation on my own site and have conversations about it with even random people when the subject comes up, but hey, why make anybody guess?
Choosing Someone to Manage It All
Our last main concern was choosing someone to manage our wishes if we die together.  Our parents would probably be too emotional to have to deal with it all.  My husband is an only child and my sisters are just starting their adult lives.  We ended up choosing a close friend who is super organized.  If we have a kid, we'll reevaluate our whole plan.
Do you have a plan in case the worst happens?
photo by thethreesisters
Get Your FREE Ebook
DINKS (Dual Income No Kids) Finance focuses on personal finance for couples. While by no means financial experts, we strive to provide readers with new, innovative ways of thinking about finance. Sign up now to get our ebook, "Making Money Tips for Couples" FREE.