Hi All,
A new start-up online broker, Loyal3, is making waves in the stock brokerage industry. The company seeks to use social media platforms to make stock ownership cheap and accessible to the general public. Loyal3 is focused on allowing investors to easily buy stocks in household consumer brands directly from their webpage or through social media sites like Facebook. Its an interesting company with some big potential upsides for consumers.
Here is why I like it:
1. Zero transaction fees. You don't pay a penny. This is really unbeatable in terms of price. While commissions in general have been declining in the past decade, zero buying and selling costs is a really terrific deal. Other brokers will want to charge you between 5 and 10 dollars to trade, but fees can be a lot higher depending on how many shares you want to move. Loyal3 avoids this – their transactions are free.
2. Loyal3 accepts really low amounts. You get to purchase stocks for as little as $10 dollars. With Loyal3, there is literally NO excuse for not owning stocks. In this case the very small minimum investments are good for people who are on a limited budget, but want investing exposure.
3. The site is geared towards small investors. You can only buy up to $2,500 worth of stock, per stock, per month. This means that it's not a platform institutional investors will find attractive. That's good for the small investor, because in the brokerage business when stocks start to go sour, brokerage firms usually take care of their larger and more influential clients first.  In effect, Loyal3 is democratizing market access by gearing their business to small investors only.
4. You can buy stocks with a credit card. This is terrific because more and more Americans are moving away from cash and towards credit or debit cards. No other brokers offer stock purchase through credit cards. Its easy and convenient.
How can Loyal3 afford to have no fees? Great question. The Company is rather vague on this, but I suspect that Loyal3 offers a sales platform for surplus equity. How stock issues work is on paper companies are able to sell some number of shares – 10 thousand, 10 million, 100 million etc., depending on the legalities and circumstance surrounding the offer.  Not all of these shares are available for trading at any particular time – some are surplus, in that the company has the right to issue them, but for whatever reason hasn't done it.  So, I suspect what Loyal3 has done is agree to act as a transfer/sales agent for the surplus shares from these companies. This is a good deal for the companies involved because they can essentially generate money from thin air (well…an accounting entry, but it's the same thing) by selling shares not currently trading on the market.  It also happens to be good for the consumer. Why? Because – no fees. The company agrees to pay Loyal3 instead of Loyal3 charging you.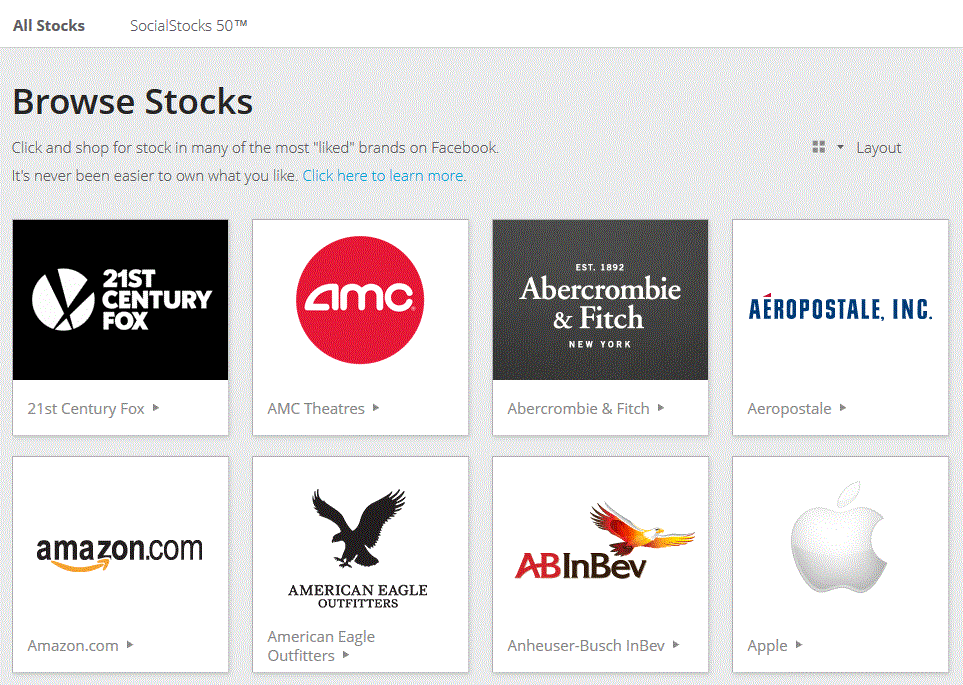 There are a couple of significant downsides with Loyal3's business model.
1. Loyal3 is a new company. It is not entirely clear if the company is cash flow positive.  Although the firm has received a couple of funding infusions – $18 million and $2.5 million in 2013. They've also hired several senior vice president types, so I am guessing the company's burn rate is pretty high. Plainly put, it's an open question whether Loyal3 will be around in a few years. So if you put any money in, it might be some time and hassle getting it back if the company goes under.
2. Loyal3 has a limited service offering.  You only get access to 54 stocks. They also don't offer bonds, research, mutual funds, tax-advantaged accounts or anything else you get at a full service brokerage house. But, even though the company only has a limited number of stocks, some of the issues are really first-rate. Their listing includes Coca Cola (K), Starbucks (SBUX), Disney (DIS) and Facebook (FB). So while they have several great stocks, if you're looking for a full service platform Loyal3 isn't the place.
While we don't normally make endorsements of particular companies or trading platforms, my sense is that Loyal3 may be worth a look. If you're interested in signing up, you can click here to get started. Also, Loyal3 lets you get signed up to participate in IPO's. These are somewhat high risk, but Loyal3 can help you with that if you're interested.
For more on Loyal3 check out the following:
Investor Junkies Loyal3 Review