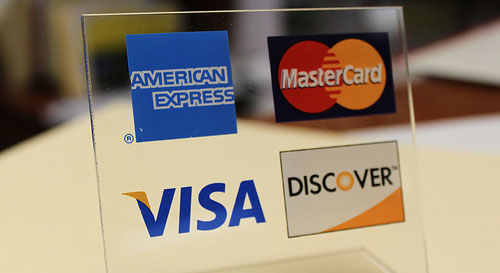 (The following is a guest post from Crystal at Budgeting in the Fun Stuff.  That's where she writes about her bills, saving for the future, and making sure that they fit in fun stuff along the way.)
I am a financial blogger that likes her credit cards.  In fact, I rarely use cash.  If you won't spend more with plastic than you would with cash, then why not earn some rewards for your normal spending as you go?
Choosing Our Discover
The main card that my husband and I use is a Discover.  I've had one since I was 18, and I will stay with them as long as they keep their great customer service, good cash back rewards, and no annual fee.
My husband and I use the Discover whenever we can when checking out, and then we use the $300-$500 in rewards every year to pay for some fun gifts cards for us at a discount, presents like movie tickets for friends, and even have simply applied some of it to our balance before.  Discover reps are easy to contact and the rewards are straight-forward on each month's summary.  The only change we've ever made with Discover is to switch from Discover More to Discover It, so now we earn 1% all of the time and 5% on rotating categories.
Choosing Our Visa
My second card changes as needed.  We always want a Visa as a backup for anyone that doesn't accept Discover, but finding the Visa for us requires a little time.
We started with a Visa with Amazon rewards, but the percentage towards the rewards kept changing.  Then we switched to one from PenFed, which had a solid 5% back for gasoline and 1% on everything else.  But they just notified us a couple of months ago that there would now be a $25 annual fee and the gas rewards were dropping to 3%.  We refuse to pay an annual fee for a credit card, so we went on the hunt again.
Thanks to some card comparison sites like TotallyMoney.com, I found our most recent addition.  We ended up going with the Chase Freedom Visa.  It seems to work just like our Discover with one extra thing – 1% cash back on everything, 5% on rotating categories, and an extra 10% back on our rewards at the end of every year since we have a Chase checking account.  It doesn't seem to have as many discounted gift card options, but it still hits all of my requirements.  It's a Visa with solid rewards and no annual fee.  Done.
Given that cash flows out of our wallets like water, I'm glad we've found credit card companies that fit our needs.  What do you use for your purchases?  Are you a cash or credit kind of person?
——-
Photo by Philip Taylor PT
Get Your FREE Ebook
DINKS (Dual Income No Kids) Finance focuses on personal finance for couples. While by no means financial experts, we strive to provide readers with new, innovative ways of thinking about finance. Sign up now to get our ebook, "Making Money Tips for Couples" FREE.