Hi All,
With the start of a new month, my wife and I sat down and added up our net worth.  As of this morning our wealth is somewhere around $937,000.  The bulk of our assets are in real estate and retirement. We also have some cash, precious metals and bonds.  The roughly $43,000 listed under business assets are the security deposits for our rentals and value of the two blogs we own (this one and cleverdude.com).
When we measured our wealth back in February we were looking at around $907,000.  This means we've seen 3.3% growth in three months. The bulk of this is due to increases in our retirement mutual funds and stocks.
Two thoughts:
1)  Stocks can generate a huge amount of value.  Once you get to around $400,000 in stock, small movements in the overall market tend to have a pretty big dollar impact on your net worth.  For example, on a basis of 400k, a 3% gain is $12,000.   Twelve thousand is a lot of money and 3% gains happen in the stock market all the time.  If you reinvest the cash, the total adds up more quickly.   This point here is that compound interest works well in simulations, but its true in real life.
Just an aside – at some point our stock holdings are likely to get out of control.  If we both continue to contribute at this rate (e.g. $30,000 per year at 7% interest) we are likely to get something like $4,060,000 by retirement.
2) Bonds and precious metals continue to lag.  We've got about $9,200 in precious metals and $3,500 in savings bonds.  Gold and silver are way off their highs, and savings bonds are the ugly red headed stepchild of the fixed income world.  With the prevailing rate of interest being so low, savings bonds are actually losing money when you factor in realistic inflation numbers.  Another disadvantage of these asset classes is that they don't produce cash – we would need to sell them to get the value.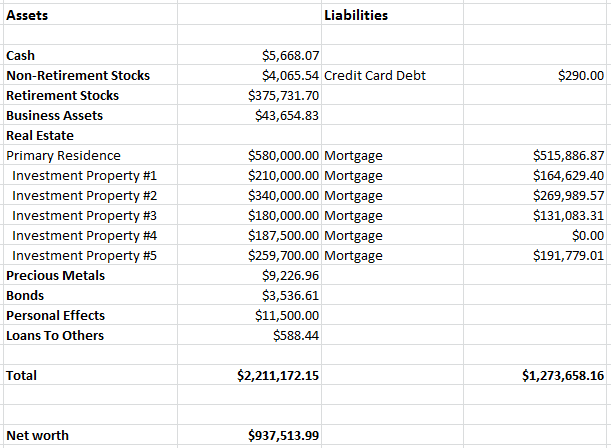 The good news is that we're just a stones throw away from achieving net worth of a million dollars. If all goes well, we should get there at the end of this year.
If you're interested in learning more about our net worth, click here.
As always, if you have any ideas for increasing your net worth quickly, please don't hesitate to drop us a line.
Best,
James
Get Your FREE Ebook
DINKS (Dual Income No Kids) Finance focuses on personal finance for couples. While by no means financial experts, we strive to provide readers with new, innovative ways of thinking about finance. Sign up now to get our ebook, "Making Money Tips for Couples" FREE.