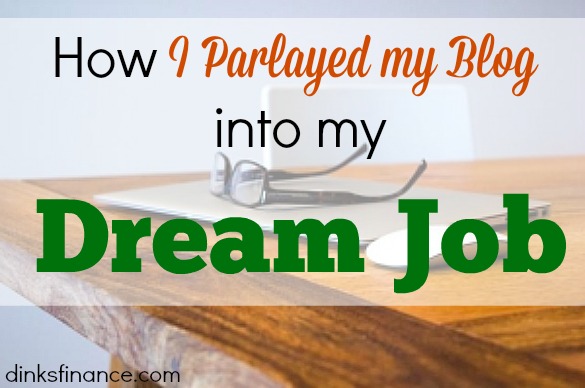 Good Morning Dinks.  I am writing to you today with amazing news. I just accepted an offer for my dream job; as of this moment I am no longer working in a bank branch.  I said bye-bye to retail banking and hello to the world of corporate communications and I owe it all to my blogging experience.
I have been blogging for almost 3 years now on both my own personal blog as well as here on Dinks Finance and on some other great personal finance and lifestyle blogs. I have always loved writing and the recent market crash gave me an opportunity to get back into writing after being away from it for so long.
Looking for a second income
When the market crashed I lost a large part of my income.  I needed to find a way to supplement my income and I didn't have time to learn a new skill or trade because rent was due on the first.  I decided to combine my love of writing with my experience in personal finance; in 2009 I started writing material for finance and insurance companies who were looking to outsource their work due to budget cutbacks.  Writing financial product information for company websites and newsletters was high paying work but the jobs were always on a contractual basis.  I needed to find work that was stable with a steady income so I started applying for blogging jobs.
My personal finance experience in banking and my writing experience for financial company websites (combined with my lovely personality) helped me land the daily blogger job here at Dinks Finance and to this day (3 years later) I am forever grateful.  As my portfolio of work began to grow so did my clientele and today I am proud to say that I currently have several steady freelance employers (is that an oxy-moron?).
Gaining experience through blogging
I use my personal blog to showcase my portfolio of work as well as let out my personal emotions from time to time.  I also blog about products that I love and good causes that I support.  But mostly my personal blog is a place for me to display all of my accomplishments in one place instead of sending potential employers to several different websites.  My most recent personal accomplishments are the release of my first book and being featured on our local news in an expose to help people stay out of debt during the holidays.
I absolutely love writing and I decided that I wanted to do that full time but since I don't actually have any corporate writing experience I didn't know where to begin.  I visited a resume building website and I asked our financial friends on the Fin Con Facebook group if they had any resume tips for someone who is thinking about switching careers.  Of course the helpfulness of financial bloggers was overwhelming and soon enough I had a brand new resume outlining my experience in personal finance and highlighting my writing skills.
Getting my dream job
I applied for a writing and social media job in New York City (but immigration is still an issue), I applied for a communications job in Toronto (where I am originally from) and I applied for a communications analyst job here in Montreal.  I am happy to announce that as of January 14, I will be a senior analyst of communications with a financial company here in Montreal.  During the job interview process the human resources counsellor was very impressed with my freelance writing experience and how well I can multi-task between my 9 to 5 job and my various freelance writing jobs.  Without my blogging experience I never would have been able to land my dream job so congratulations to me and thank you to everyone who helped make it possible.
Photo by adpk
Get Your FREE Ebook
DINKS (Dual Income No Kids) Finance focuses on personal finance for couples. While by no means financial experts, we strive to provide readers with new, innovative ways of thinking about finance. Sign up now to get our ebook, "Making Money Tips for Couples" FREE.