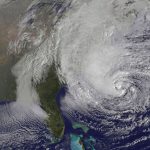 Hi All,
Well, in case you haven't noticed, the East Coast of the U.S. is firmly in the grip of Hurricane Sandy.  It is being touted as the storm of the century, with alarming messages coming from local and national government.
Since this blog is about making money, here is a thought on how to profit from the storm.  The strategy would be speculative, but if you've got some capital you could pick up 10% or 15% return.  The main idea would be to identify insurers who primarily have business on the Eastern seaboard or operate mostly in New York or New Jersey.  The hurricane should have a negative impact on their business, thus driving down their stock price.  One would need to take a position in their equity after the storm has hit, and then sell once the stock price has improved.  This would be comparable to taking advantage of the decline in British Petroleum (BP) during the disaster in the Gulf last year.
Why will this work?
Well, there is a lot of evidence that hurricanes have a huge impact on local economies, but some data also suggests that the effect on stock market prices appears to be selective.  At least this has happened historically when examining the impact of big storms in Florida.  Here is a 1995 piece by Reihold Lamb, entitled An Exposure-Based Analysis of Property-liability Insurer Stock Values Around Hurricane Andrew.  It provides some evidence that efficient markets will result in lowered equity prices for selected companies.
It has been estimated that Hurricane Andrew caused more than $20 billion in damage
in Florida and Louisiana in August 1992. Property-liability insurers will bear much of the
loss payments to insureds. This study classifies the firms in the property-liability industry
in terms of loss exposure and no loss exposure to determine if the market discriminated
among insurers based on this risk. The results indicate that Hurricane Andrew produced a
significant negative stock price reaction on property-liability insurers with direct premiums
written in Florida or Louisiana. Unexposed firms sustained no significant price response.
Thus, the results support the hypothesis that the market efficiently interpreted the informa-
tion generated by the hurricane and discriminated among property-liability insurers based
on the existence and magnitude of insurance written (clicky to download).
Like the old saying goes, crisis is also opportunity.  If you're on the East Coast, good luck and stay safe.  On a side note, we just got our first call of flooding into one of our rental units.  It is occurring in a place that it has happened before, related to a roof repair that is still under warranty, so we should be relatively covered in terms of cost, but another thing to manage overall.
Best,
James
Get Your FREE Ebook
DINKS (Dual Income No Kids) Finance focuses on personal finance for couples. While by no means financial experts, we strive to provide readers with new, innovative ways of thinking about finance. Sign up now to get our ebook, "Making Money Tips for Couples" FREE.