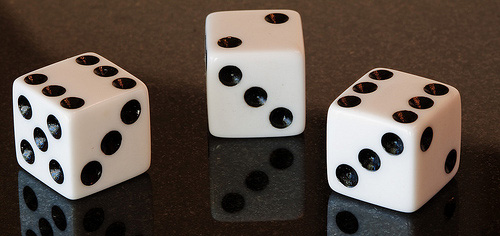 It seems like we have rules for everything in finance. We have a rule regarding the maximum that we can contribute towards our retirement savings plans each year, and we have a rule about how much annual tax we should pay. What about life's uncertain financial situations that don't come with a rule book.  Who determines the rules for life's unplanned events?
This past week my clients, my family, and even our DINKs friends discussed several different life events such as selling an investment property, searching for a job in this tough market, and dipping into our rainy day accounts.  The question at the end of these conversations was always the same…Normally, what should people do in this situation?
Regarding personal finance, there is really no normal because everyone's personal situation is different.  However, we have the unwritten Rule of Three. I am not sure how, or why the number 3 became a norm in finance world, but this past week I referred to it at least three times.
Two years ago, when the market was taking a turn for the worst, people kept asking "when is it going to get better?" My standard reply was always the same…If it takes one year for the market to hit rock bottom, it will take three years to fully recover.  The truth is, no one really knows exactly when the market will fully recover.
Three years ago my friend Taylor bought a triplex as an investment with two other girlfriends.  I told Taylor from the beginning that three single girls investing together in a triplex property was a bad idea.  However, Taylor was sure that she was making the best financial decision.  Now, the three girls are not talking to each other after a huge falling out, and two of the three units are currently not rented.  The bank, of course, still wants their mortgage payment every month.  Needless to say, this is adding unnecessary stress to an already stressful situation.
Due to personal differences, the three girls have no choice but to put their property up for sale. But, in all honesty, who wants to buy an investment property that has no revenue coming in? I know that I wouldn't.
Taylor is expecting to put the property up for sale this week, and have it sold by the end of the month.  She is not expecting to pay the October mortgage payment out of her pocket. I told Taylor that it is unrealistic to list a property and sell it, within 30 days.  In general, I advise my clients to stick to The Rule of Three when listing a property.  People should plan for three months of expenses including utilities, taxes, and mortgage payments; because it could take up to three months to sell a property. It is unrealistic to expect to sell a house within a few weeks.
The most widely known Rule of Three in Finance may be the savings rule for our rainy day accounts. Some financial planners advise people to have 3 full months of their annual salary saved away for a rainy day.  Other financial planners say that we should save three months of total monthly expenses. Regardless of whether we base it on our annual salary, or on our monthly expenses, the general rule is to have three months of security saved away.
The reason we say that we should have 3 months of savings is because generally it takes 3 months to find a new job.  In the post titled What To Do When Your Nest Egg Cracks our reader Hope to Prosper commented that he has survived 2 layoffs thanks to his rainy day account.
The next time we are faced with a difficult financial decision, we should remember the solution may be The Rule of Three.
(Photo By GenBug)
Get Your FREE Ebook
DINKS (Dual Income No Kids) Finance focuses on personal finance for couples. While by no means financial experts, we strive to provide readers with new, innovative ways of thinking about finance. Sign up now to get our ebook, "Making Money Tips for Couples" FREE.