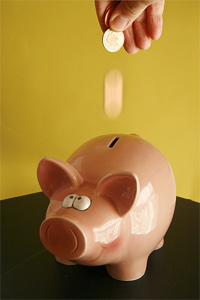 Happy Friday DINKS! Today we are discussing the thing that holds our money for us…our Bank Accounts. How many of us pay Bank Fees? Did everyone raise their hand or nod their head? Now, how many of us hate paying Bank Account Fees?
As a bank employee I have one free account with unlimited monthly transactions as part of my employee benefits package.  However, my other accounts, such as my savings account, and my joint account with my Dad all have a monthly fee.
I am a bit paranoid about fraud on my bank accounts and my credit card (singular, my one credit card). I am so paranoid that I check and verify my previous day's transactions every morning online before I take my shower.  In my line of work I see an unlimited amount of numbers every day.  If you combine this with my memory span of a goldfish, it is almost impossible for me to remember what transactions I did, and did not do.
Therefore, instead of waiting until it's too late, I keep up to date on my account history to prevent fraud and also to ensure that I don't surpass the amount of allowed transactions. You could say that I balance my bank account as my mother used to "balance her check book".
My Dad's personal financial motto is "If my bank has money, I have money."  As we know I am not a huge fan of using credit. Therefore, this is the complete opposite of my own personal financial motto.  I like to know what is there. What came in and what went out…every single day! This is both for fraud prevention as well as money management reasons.
DINKS, my question to you is…Do you know what's in Your Bank Account? Tell us about your monthly bank account fees. Maybe you have a plan that we should be on!
Have a great weekend :)
——–
(Photo By AlanCleaver)
Get Your FREE Ebook
DINKS (Dual Income No Kids) Finance focuses on personal finance for couples. While by no means financial experts, we strive to provide readers with new, innovative ways of thinking about finance. Sign up now to get our ebook, "Making Money Tips for Couples" FREE.