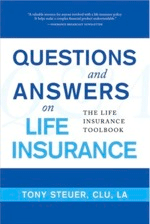 Hi Dinks! Ready for another giveaway?  Just got this one in the mail and it sure covers a LOT.  Not something you read for pure entertainment, but def. worth having around.
Here's a clip from the press release:
In Questions and Answers on Life Insurance: The Life Insurance Toolbook, Tony Steuer uses an accessible Q&A format which educates and empowers readers with the information necessary to craft the best life insurance policy to benefit their lifestyle, needs, and goals.
Life Insurance is like a parachute, you may only need it once, but when you need it, you really need it. And just as important as your pilot, plane, and training are, your parachute is essential to your well being and needs to be packed correctly. In an emergency situation, Life Insurance will be that necessary element that guides you and your family to safe ground.
With twenty years of experience in the life insurance business, Anthony Steuer delivers a practical, one-of-a-kind resource to guide you through the basics–and the finer points–of life insurance and helps you choose the policy that is just right for you and your family. Using a simple question-and-answer format, Steuer covers everything you need to know about life insurance, including how to:
Differentiate between types of policies
Find and evaluate a policy and company
Hire a trusted agent
Understand the practice of underwriting
Monitor a policy's performance
Sound interesting? Tell us what you're grateful for in the comments below, and you'll be entered to win. We're giving away TWO copies so your odds of getting one are automatically doubled :)  We'll pick the 2 winners this Saturday night at Midnight – good luck!
———
More info via Amazon: Questions and Answers on Life Insurance: The Life Insurance Toolbook
——-
*Giveaway is now over* Congrats goes out to Tim and Kelli! Check your email for details on how to claim them. Thanks for participating everybody – will be doing more as time goes on :)
Get Your FREE Ebook
DINKS (Dual Income No Kids) Finance focuses on personal finance for couples. While by no means financial experts, we strive to provide readers with new, innovative ways of thinking about finance. Sign up now to get our ebook, "Making Money Tips for Couples" FREE.