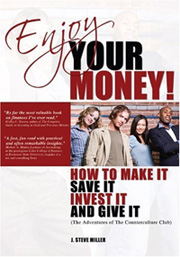 Hey guys, got another great book to give away this week!  This one's a bit more fun and down to Earth, and we've got TWO copies to give out this time.
Here's a snapshot on the book written by educator J. Steve Miller:
Enjoy Your Money! How to Make It, Save It, Invest It and Give It (The Adventures of the Counterculture Club)
The story line: four diverse high school seniors meet in "In School Suspension" (think: The Breakfast Club) and discover they have one thing in common – their parents are hopeless at personal finance and they desperately want to do better. So they start meeting each week with an eccentric teacher for wide-open discussions of successful money management.
The book also teaches through real stories: Like how billionaire Warren Buffett accumulated $47,000 (in today's money, accounting for inflation) by the time he graduated from high school, doing jobs that anybody could do, like finding and selling golf balls, caddying and doing paper routes. Or how Thomas Jefferson, Mark Twain and Led Zeppelin's manager LOST tons of money.
And here's a quote by Dr. Dwight "Ike" Reighard, former Executive Vice President, HomeBanc:
"Had I read this book in my 20's, I'd be financially independent today. It's a remarkable blend of fabulous research with clear and lively writing. You'd pay an expert quite a sum for this caliber of counsel. That's why I say that the best investment you make this year just might be this book. Your second best investment will be the copies you buy for your children."
Want a copy? Share with us a side job you once had to bring in some extra money, and you'll be entered to win. We'll Random.org the winners this Sunday night (June 20th) at 10pm EST. Good luck!
————-
More info on Amazon: Enjoy Your Money!: How to Make It, Save It, Invest It and Give It
Get Your FREE Ebook
DINKS (Dual Income No Kids) Finance focuses on personal finance for couples. While by no means financial experts, we strive to provide readers with new, innovative ways of thinking about finance. Sign up now to get our ebook, "Making Money Tips for Couples" FREE.