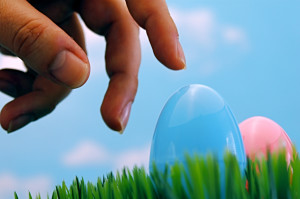 Good morning Dinks, happy Friday and happy Easter.  In just two days people all over the world can once again indulge in the vices that they gave up for Lent.
This year I decided not to give up anything this year.  Instead I decided to improve upon something – so I gave up swearing.  It wasn't a total success, it's more of a work in progress.  But at least I'm trying to better myself.
What did you give up for Lent?
Happy Easter and enjoy these posts from our friends.
Money Talks News – 7 Steps to Make Millions With Your Bright Idea
Money Beagle – 9 Things Your Yard Needs For A Great Spring
L Bee and the Money Tree – Five Years Later – Was Choosing the Safe Option The Right Thing To Do?
Common Sense Millennial – 4 Reasons Combining Our Finances Made Sense
Enemy of Debt – 4 Ways To Make Money At Home
The Heavy Purse – Set Goals that Matter
Photo by JD Hancock
Like DINKS? Subscribe!
Subscribe to get the latest DINKS Finance content by email.