Folks,
One good way to manage your risk is by spreading your investments into low, medium and high risk vehicles using a financial pyramid.  In a financial pyramid, the largest part of an investor's assets are in safe liquid investments that provide a decent return, such as bonds or certificates of deposit.  Next, some money is invested in stocks or real estate that provide good income and the possibility of long-term growth of capital.  Third, at the top of the pyramid a smaller portion is placed in speculative investments (oil wells, direct ownership of equity in small businesses, etc.) which may offer high returns if the investment is successful.  In this part only a small amount of money is committed.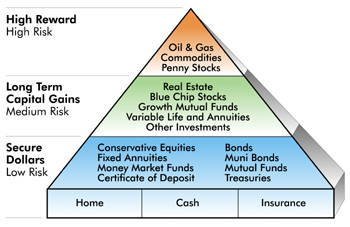 Please don't confuse this with fraudulent selling schemes, otherwise known as pyramid schemes.  This is a strategy for risk management, not a specific type of investment or business opportunity.
There is a simple way to take action on this.  When you are buying assets – just allocate half of your funds towards secure, low risk issues (i.e. bonds).  Put about a third into medium risk assets like blue chip stocks and the last 20% into high risk speculative investments like oil wells or penny stocks.
Like DINKS? Subscribe!
Subscribe to get the latest DINKS Finance content by email.